View all news
Student's pedicab business delivers festive spirit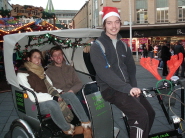 Press release issued: 4 January 2012
A booming student business has been busy delivering the Christmas spirit across Bristol thanks to its eye-catching rickshaws.
Pedal Power Transport
, set up by Bristol University student Sam Harris in the summer, adorned the pedicabs with bright decorations and offered fun trips around the Christmas market to add to the city's festive offering.
The specially-adapted tricycles were also booked as taxis for Christmas parties and couriers to deliver all-important presents and food for local businesses.
Sam, 21, started Pedal Power Transport at the start of the summer and is already rushed off his feet, employing a team of 20 staff to meet the needs of customers keen to cut-down their carbon footprint.
The Biological Sciences student said: "We were so busy that I was working until 1am everyday to meet demand. We delivered lots of Christmas cakes alongside our standard vegetable boxes, packed with seasonal winter food. Our Santa's sack was bursting and the rides around the Christmas market proved very popular.
"We've also received some great feedback from our customers, who are pleased to be able to use a local service, which has helped them save time, money and stress at what's always a hectic time of the year."
The pedal-power rickshaws have zero emissions and aim to cut congestion, pollution and carbon from the streets of Bristol.
Sam originally planned for Pedal Power Transport to operate on a small scale over the summer, but it's been so successful that he's been able to expand and it now operates year-round.
He was able to get his business up to speed with the help of an Entrepreneurship Award from Bristol University, which gave him £1,500, office space and advice for 12 weeks over the summer at Basecamp – the student start-up support service.
Pedal Power Transport has secured additional funding through UnLtd, a charity which supports social entrepreneurs, to grow the pedicab and courier business through buying uniforms for staff as well as extra bikes to expand the operation.
Sam has also just won the Shell Livewire Award for his efforts to help the business grow and make a name for itself.
Advertising is the next avenue to explore with Sam planning to target 5,000 local companies who may wish to publicise their brand on the rickshaws to help create an eco-friendly and ethical image.
For further details, please see www.pedalpowertransport.co.uk
Further information
Basecamp
is the University of Bristol's student start-up support service. Providing peer-support, desk-space, access to a student-run £30k seed fund, business advice surgeries provided by Veale Wasbrough Vizards, SWAIN, and Ernst & Young), master-class events, and opportunities to get advice and mentoring through a pioneering LinkedIn group of local and alumni entrepreneurs. For more information about the Entrepreneurship scheme please see:
www.bris.ac.uk/red/students/Entrepreneurships