View all news
Bristol student wins national youth volunteering award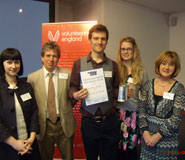 Press release issued: 15 February 2011
A medical student from Bristol has won a prestigious award for his contribution to youth volunteering and commitment to enhancing the lives of his fellow students and local community.
A medical student from Bristol has won a prestigious award for his contribution to youth volunteering and commitment to enhancing the lives of his fellow students and local community.
Jonathan Broad, a medical student at the University of Bristol, has been awarded the 2011 Matt Spencer Award from Volunteering England, an independent charity and membership organisation, committed to supporting, enabling and celebrating volunteering.
The award, established in 2001 in memory of Matt Spencer - a young volunteer who sadly passed away, celebrates outstanding student contribution to volunteering.
Jonathan's inspiring community engagement achievements range from taking musical entertainment into older people's residential homes to teaching English at a refugee centre. In addition to this he also established Bristol-based Foodcycle, a project in which students collect surplus food in agreement with shops and redeliver to people affected by food poverty.
His greatest involvement in the development of student volunteering has been through the Bristol Hub, a network of ethical, environmental, developmental and community volunteering societies and student groups, which aims to connect students with a range of causes linking with the local community.
Jonathan said: "I am thrilled to have won this award, volunteering provides an unmissable opportunity to make a difference, learn more about people and make great friends. I have learnt more about the world, made fantastic friends and gained perspective of my own life. I've learnt a lot about people in need and the power of people to be ingenuous and creative when helping each other. There are lots of volunteers in this university and across the country who spend hours and hours donating their time to make a difference to those around them, it's this work that makes them invaluable."
Professor Eric Thomas, Vice-Chancellor of the University of Bristol, said: "Volunteering is something we take very seriously at Bristol and we see it as an important part of our students' experience outside of their immediate studies. We pride ourselves in educating many of tomorrow's leaders and the experience and wider view of life gained through volunteering forms an invaluable part in this. I am very pleased that Jonathan's undoubted drive for volunteering has been recognised in this way."
Rachel Miller, Community Engagement Coordinator at the University of Bristol Students' Union, said: "Jonathan Broad has without doubt demonstrated absolute commitment to enhancing the lives of his fellow students, the local community and the world around him. He does so with enthusiasm and energy that few of us can match. As a medical student, Jonathan's achievements seem even more remarkable when taking into consideration his university workload."
The Matt Spencer Fund was set up in memory of Matt Spencer, who sadly passed away in 2001 aged 23. Matt epitomised student volunteering - he cared deeply about people, the exploitation and oppression they face, and he passionately challenged it with his lateral approach.
Matt's family set up a fund in his memory to recognise the work of outstanding student volunteers. The fund intends to award one outstanding student each academic year with an award in the form of an inscribed tankard, a cheque for £100 and a bottle of champagne.
Justin Davis Smith, Chief Executive, Volunteering England, said: "Student Volunteering Week is a great opportunity to celebrate the hard work of the thousands of student volunteers up and down the country, whilst encouraging students who have never volunteered before to get involved. The diversity of roles available really is endless and the contribution made by student volunteers absolutely outstanding."
The award was presented to Jonathan at the launch of Student Volunteering Week on 14 Feb 2011 at the Royal Institute for British Architects in London. Student Volunteering Week, sponsored by Santander, champions volunteering within further and higher education. Forty nine per cent of students volunteered in the 2009/2010 academic year, giving just over three million hours to their communities and contributing an estimated £42 million to the economy.