View all news
Saxon queen discovered in Germany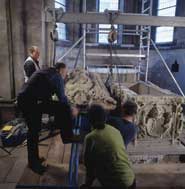 Press release issued: 20 January 2010
Remains of one of the oldest members of the English royal family have been unearthed at Magdeburg Cathedral in Germany. The preliminary findings will be announced at a conference at the University of Bristol today.
Eadgyth, the sister of King Athelstan and the granddaughter of Alfred the Great, was given in marriage to Otto I, the Holy Roman Emperor, in 929. She lived in Saxony and bore Otto at least two children, before her death in 946 at the age of 36. She was buried in Magdeburg and her tomb was marked in the Cathedral by an elaborate sixteenth-century monument.
In 2008, as part of a wider research project into Magdeburg Cathedral, this tomb was investigated. It was known that she was initially buried at the Monastery of Mauritius in Magdeburg, and if bones were to be found, they would have had to have been moved to this later tomb; it was, however, thought that this tomb was most likely a cenotaph.
But when the lid was removed, a lead coffin was discovered, bearing Queen Eadgyth's name and accurately recording the transfer of her remains in 1510. Inside the coffin, a nearly complete female skeleton aged between 30 and 40 was found, wrapped in silk.
Dr Harald Meller of the Landesmuseum fur Vorgeschichte in Saxony Anhalt, who led the project, said: "We still are not completely certain that this is Eadgyth, although all the scientific evidence points to this interpretation. In the Middle Ages, bones were moved around as relics and this makes definitive identification difficult."
As part of the research project, some small samples are being brought to the University of Bristol for further analysis.
The research group at Bristol will be hoping to trace the isotopes in these bones to provide a geographical signature that matches where Eadgyth is likely to have grown up.
Professor Mark Horton of the Department of Archaeology and Anthropology, who is co-ordinating this side of the research, explained the strategy: "We know that Saxon royalty moved around quite a lot, and we hope to match the isotope results with known locations around Wessex and Mercia, where she could have spent her childhood. If we can prove this truly is Eadgyth, this will be one of the most exciting historical discoveries in recent years."
Eadgyth is likely to be the oldest member of the English royal family whose remains have survived. Her brother, King Athelstan, is generally considered to have been the first King of England after he unified the various Saxon and Celtic kingdoms following the battle of Brunanburgh in 937. His tomb survives in Malmesbury Abbey, Wiltshire, but is most likely empty. Eadgyth's sister, Adiva, was also married to an unknown European ruler, but her tomb is not located. Historical chronicles tell that Adiva was also offered to Otto, but that he chose Eadgyth instead.
The discovery of Eadgyth's remains illustrates the close links between European states in the early medieval period and how in the formation of both England and Germany intermarriage between the emerging royal houses of Europe was commonplace and has left a lasting legacy in the present royal families of Europe.