View all news
Exercising at work - who's it good for?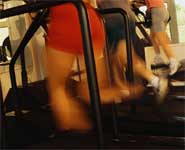 Press release issued: 16 December 2008
A new study seeks to answer whether people perform better in their jobs on days they exercise.
Exercising at work is supposed to make you more 'productive', although there is very little research to support this. A new study seeks to answer whether people perform better in their jobs on days they exercise.
The research led by the University of Bristol entitled, Exercising at work and self-reported work performance is published in the current issue of International Journal of Workplace Health Management.
The researchers examined if being active during the working day affects people's mood and performance. Two hundred people took part in the study. They exercised on a fairly regular basis using worksite-provided facilities, such as the gym or exercise classes. Volunteers worked at one of three large, well-known companies in Bristol. They mainly held desk-based roles and rated themselves as good at their jobs.
Volunteers were asked to fill out short questionnaires about their mood on two working days of their choice: one set for a day they decided to exercise and a second set for another day. At the end of each day, they answered questions about how productive the day had been. Four focus groups were also set up to enable volunteers to talk about their experiences of exercising at work.
Jo Coulson, Research Associate in the University's Department of Exercise, Nutrition and Health Sciences, said: "Our statistical results were very important. On exercise days, people's mood significantly improved after exercising. Mood stayed about the same on days they didn't, with the exception of people's sense of calm which deteriorated."
"Critically, workers performed significantly better on exercise days and across all three areas we measured, known as mental-interpersonal, output and time demands."
The researchers found from the focus groups that people who built exercise into their workday experienced positive spin-offs. Exercise helped re-energise and improve concentration, made people feel calmer and particularly assisted with problem solving. Networking opportunities also seemed to thrive.
The main challenges workplace-exercisers faced were fitting exercise around other commitments, guilt over being away from the desk and judgemental views from work colleagues.
It is hoped the findings of this study will persuade more employers to consider providing opportunities for physical activity to staff. Such investment doesn't automatically mean huge outlay. Installing bike racks, allowing more flexible work patterns or starting up a lunchtime walking group make more sense in these times of economic pressure and uncertainty.
Such corporate-social responsibility might not just lead to longer-term, health-related financial returns. Businesses may notice staff that take up such opportunities are in much better spirits and are much more productive on a short-term basis.
Jo Coulson added: "It's generally well-known now that there are many physical and mental health benefits that can be gained from regular exercise. If people try to fit an active break into their working day, they might also experience the added bonus of their whole day feeling much more productive. And that always feels good in our busy lives.
"The study also begs the question whether employers can afford not to be encouraging active breaks. The suggestion is that employers who are ahead of the game in offering proper onsite facilities actually get less from their employees on days that they don't exercise."
Further information
The paper:
Exercising at work and self-reported work performance
; J. C. Coulson, J. McKenna, M. Field (pp. 176-197),
International Journal of Workplace Health Management 2008
; Volume 1 Issue 3.
The Department of Exercise, Nutrition and Health Sciences (ENHS) at the University of Bristol conduct research that focuses on physical activity, nutrition and their associations with health across the life span. The primary areas of focus include biomedical, psychosocial and socio-environmental aspects of physical activity and nutrition. The Department seeks to influence activity, nutrition and public health policy and have provided the scientific review for a Chief Medical Officer's report on Physical Activity and Health Outcomes.
For more information on ENHS visit: http://www.bristol.ac.uk/enhs/