View all news
Autumn web update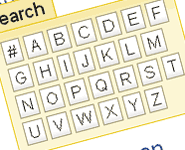 3 December 2007
A roundup of developments and improvements on the University's corporate web pages.
An update on a number of web items.
1. Recently launched sites
Many departments were busy over the summer preparing their sites for the start of the academic year; over 17 sites were launched. A full list of these sites can be found at www.bristol.ac.uk/web/web-news/#update-nov.
2. Microformats in the Contact Directory
Microformats have been applied to certain areas within the University of Bristol Contact Directory. This feature is available on pages showing individual contact details and those showing a list of staff details for a particular office or unit. This means that if you have the appropriate software (eg the Operator plugin for Firefox) you can save contact details in a simple and easy way to your personal address book (eg Outlook, Gmail, Yahoo mail).
For further information on microformats, go to http://en.wikipedia.org/wiki/Microformats or http://microformats.org/.
3. Google Suggest in the Directory of Experts
The Directory of Experts (DoE) now supports 'Google Suggest'-type functionality. This means that as you type into the 'Search by expertise' search box, the DoE guesses what you're typing and offers suggestions in real time. This should make finding an expert much easier and quicker for users of the DoE.
4. Did you know? Improving the visibility of your site
Did you know that there are several ways you can improve the visibility of your site? More information on this is available at www.bris.ac.uk/web/best-practice.html#bsearch.
5. Web news
Most of the above information can be found on our web news pages located at: www.bris.ac.uk/web/web-news/.