View all news
Travel to Work Survey 2007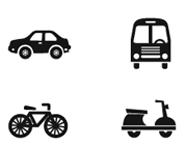 29 November 2007
Have your say – and you could win one of four £50 vouchers.
Every two years the University carries out a staff survey related to travel to work. The survey enables us to take account of current opinions and the results enable us to monitor shifts in travel patterns and determine our transport policies and how money is spent. I hope you will agree to take part and give your opinions as it is important to have as many respondents as possible – our future decisions could affect you!
This year, as well as asking about your travel to work behaviour, the survey seeks your views on specific aspects of the travel plan, including car sharing, the Hospital and University Bus Shuttle (HUBS), facilities at the University and your business related travel.
Please access the survey at www.survey.bris.ac.uk/travel/2007 and complete it before Wednesday 19 December. Staff without computer access will receive a paper copy via their departmental administrators.
The survey is designed to take around 10 minutes of your time. As well as influencing the direction of the travel plan and policies for the future, those taking part will have a chance of winning one of four £50 vouchers for a shop of their choice by entering a prize draw.
Many thanks in anticipation for your support.
Professor David Clarke, Pro Vice-Chancellor, Chair of the Travel to Work Implementation Group (TWIG).