View all news
Perspective and progress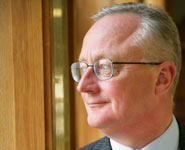 29 November 2007
The Vice-Chancellor, Professor Eric Thomas, on challenges (personal and professional), the RAE and the new Staff Club.
I have been a bit distant from the University over the past eight weeks as my father became very ill in the North East and unfortunately died. Events like this, which I know happen to many members of staff, certainly put the ordinary daily irritations and distractions of life into proper perspective. They also serve to remind me of the challenges faced by those of you who have to combine work with long-term caring responsibilities across the age ranges.
Anyway, I can report two pieces of good news. Firstly, the Research Assessment Exercise (RAE) submission was successfully emailed to HEFC(E) today (28 November), so now all we have to do is wait. It's important to remember that there will be two results: the first will be known in December 2008 and will be the outcome of the assessment; the second, and much more important, will arrive in February or March 2009 and will be the financial outcome. I do not think our submission could have been handled better and I want to thank Malcolm Anderson, Lesley Dinsdale and the team from Research and Enterprise Development (RED) and all the Unit of Assessment co-ordinators for their sterling work. A successful outcome does depend primarily on the quality of our submitted work, but an excellently managed submission is important as well.
Secondly, I visited the new Staff Club today in The Hawthorns. It is a fantastic facility available to every (and I mean every) member of staff. It has quiet rooms and a games room with snooker, pool and table tennis. There are going to be large TVs for watching sporting events, although I don't know if I want to watch Newcastle United play terribly yet again in front of all of you. There is a skittle alley which can be hired for events. Piano players will be able to use an excellent instrument and there are daily newspapers for all to read. I would urge you all to explore it and I congratulate Anthony Hollander and the rest of the team who put this new facility together.
Incidentally, the snooker table reminds me of one of my first meetings here in Bristol after my appointment. It ended with a legendary snooker game with Sir John Kingman, Selby Knox and Bob Reeves late in the evening at the Hotel du Vin, but I had better say no more…
Back to normality for me now, which I presume includes Xmas shopping. Joy of joys.