View all news
Arenberg-Coimbra Group Prize 2008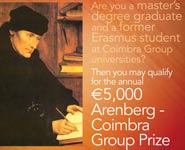 28 November 2007
The Coimbra Group is again offering the Arenberg-Coimbra Prize, open to Masters graduates who have studied on the Erasmus programme.
The Coimbra Group, of which the University of Bristol is a member, is again offering an annual prize open to Masters graduates who have also spent their Erasmus study period at one of the Coimbra Group universities. The Arenberg-Coimbra Group Prize is worth €5,000.
Candidates must write a four-page essay explaining the contents of their Masters thesis, and must demonstrate the added value of their Erasmus exchange to their degree work.
The deadline for submission is 31 January 2008. Full details and application procedure can be found on the Coimbra website.