View all news
Want to be a sports star?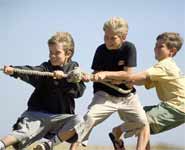 Press release issued: 23 November 2007
New findings from the Children of the 90s project show that children born in autumn are more active than those born in spring.
New findings from the Children of the 90s project show that children born in autumn are more active than those born in spring.
The ALSPAC study (also known as Children of the 90s) has been following the health and development of 14,000 children since before their births in 1991 and 1992. A paper published today in the British Medical Journal examines a number of factors in the first five years of these children's lives, looking for links with their activity levels at age 11.
One of the strongest links was with season of birth. At age 11, the children were asked to wear an activity monitor, which recorded every move they made for seven days. Children born in spring were the least active, moving around nine per cent less than the most active group, those born in autumn.
"It's a modest difference, but interesting," said lead researcher, Calum Mattocks, Research Associate at ALSPAC. "We think it is unlikely to be biological, but may be due to the age at which children start school.
"Children born in the autumn will tend to be the biggest, strongest and most developed in their school year. So they are more likely to do better in sport, which may motivate them to stay active. Later born children may struggle to keep up, and so may get 'turned off' games and exercise. This effect could last beyond the age when a few months makes a significant difference.
"Previous studies have indicated that children born late in the school year may be at a disadvantage academically. Our findings show that this may also be true of physical activity, which could impact on future health. If teachers are aware of this, they can try to make it possible for the younger children to achieve at an appropriate level. This could help them stay motivated, before they decide they're 'no good at games'."
The BMJ paper reveals several other early life factors which are linked with activity levels at 11, but in most cases the association is modest :
Mothers who were active in pregnancy tended to have children who were about three-four per cent more active than the average;
Children with older siblings were around four per cent more active;
Children who watched a lot of television at age three and four were very slightly less active at age 11 (less than one per cent ).
Early life determinants of physical activity in 11 and 12 year olds: cohort study. Calum Mattocks, Andy Ness, Kevin Deere, Kate Tilling, Sam Leary, Steven N Blair, Chris Riddoch. : BMJ 23 November 2007, doi: 10.1136/bmj.39385.443565.BE.
Further information
Many well-known sportspeople were born in autumn/winter. Paula Radcliffe (December 17); Wayne Rooney (October 24); Tim Henman (September 6); Freddie Flintoff (December 6). However, David Beckham was not handicapped by his birthday - May 2.
ALSPAC The Avon Longitudinal Study of Parents and Children (also known as Children of the 90s) is a unique ongoing research project based in the University of Bristol. It enrolled 14,000 mothers during pregnancy in 1991-2 and has followed most of the children and parents in minute detail ever since.
The ALSPAC study could not have been undertaken without the continuing financial support of the Medical Research Council, the Wellcome Trust, and the University of Bristol among many others.