View all news
Chemistry students shortlisted for volunteering award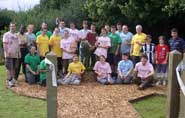 14 November 2007
Five students in the School of Chemistry have been shortlisted for a Higher Education Academy Student Volunteering Award.
The
Higher Education Volunteering Awards
reward and give national recognition to exemplary volunteering projects and student and staff volunteers who have shown significant commitment to, or exceptional execution of, volunteering activities.
Natalie Stear, Phyllis Fiadzomor, Joe Beames, Clare Galvani and Claire Rosling submitted a group entry, entitled Graduate Chemistry Association Challenges and Events, in the Student Volunteering Award category. The entry was made on the basis of two Community Challenges and other charity fundraising events organised over the past two summers.
Details of the challenges at Stockwood Community Centre and Weston Park Primary School can be found at www.bristol.ac.uk/news/2007/5565.html and www.bristol.ac.uk/news/2006/1050.html.
The winners will be announced at a presentation ceremony at Wembley Stadium on 7 December.