View all news
Former M&S boss launches New Enterprise Competition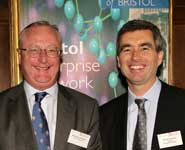 13 November 2007
Roger Holmes, former CEO of Marks & Spencer, visited the University on 9 November to mark the official launch of the 2008 New Enterprise Competition.
Designed to inspire new, high-growth business ideas and entrepreneurial talent, the competition is launched every autumn and is open to students, staff and recent graduates of the University. There is a substantial prize fund in the region of £35,000 including cash, free professional advice and managed office space to help make businesses a commercial success. The closing date for entry in the 2008 competition is 26 February.
Speaking at this year's launch were Bristol's Vice-Chancellor, Professor Eric Thomas, and Roger Holmes, who welcomed the competition as an excellent way of stimulating entrepreneurship within today's generation.
Mr Holmes said: 'It is refreshing to see universities such as Bristol encouraging opportunities in enterprise through competitions such as this. I would encourage you all to take part and give your business ideas a chance of becoming a reality.'
The best entries are judged and selected by a panel of experts from the sponsoring organizations, among them Bristol City Council, Business West, Deloitte, Fortis Bank, STMicroelectronics, Osborne Clarke, Sulis Innovation, Edwards and the United Bristol Hospitals Trust. These entrants will then be invited to submit full business plans. The winners, to be announced at the prestigious Enterprise Dinner in the summer of 2008, will be awarded cash prizes and support to help bring their ideas to the marketplace.
Part of the prize pool includes six months worth of managed office space at the Bristol SETsquared Acceleration Centre. The SETsquared Business Acceleration Centres are part of the SETsquared Partnership, the collaboration of the universities of Bath, Bristol, Southampton and Surrey, which support early-stage technology, high-growth potential ventures from both within and outside the universities to accelerate their businesses. Each Centre provides entrepreneurs business mentoring and guidance support to entrepreneurs and business professionals and office space.
Paul Harrod, the University's Enterprise Network Manager, who opened the event, said: 'Our annual New Enterprise competition continues to go from strength to strength. We are very proud of the quality of the enterprises that arise from the competition and look forward to seeing what this year's entries can do.'
You can find more information on the competition webpages.