View all news
The future of the University's student residences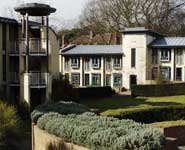 9 November 2007
The University has established the Residential Strategy Board to carry out a comprehensive review of its student residences and work on a plan for their future.
What is more, accommodation can have a powerful effect on students' academic performance and personal development, especially in their first year: the wealth of opportunities to interact with a diverse body of intellectual equals provides both challenge and stimulus.
Nor should it be forgotten that accommodation is the largest single expense students face. The University is keen to offer them value for money.
Students want safe, affordable, comfortable and convenient accommodation that allows them to integrate, socialise and study. The accommodation package needs to include modern social, catering and learning facilities close to the accommodation, good transport links with the University precinct and first-rate pastoral and welfare support.
At present, the University's residential estate provides some 3,500 rooms. The estate includes six halls of residence in Stoke Bishop, several significant historic houses in Clifton and a range of student houses within easy walking distance of the precinct. This adds up to a very substantial asset, but some University accommodation is in need of substantial investment and is unlikely to meet our students' requirements or expectations in the future. There is clearly scope to look after the asset better, to improve it and to enhance the student experience.
The University has established the Residential Strategy Board to carry out a comprehensive review and to work on a plan for the future that will bring benefits not only to students but also to local communities and the University as a whole:
students: a choice of high quality, affordable accommodation, with good amenities for living and learning, better transport links and improved safety and security
communities: an enhanced environment, achieved by dealing appropriately with unsightly, outdated buildings, improving the spaces around buildings, providing better transport links and ensuring that any extra student accommodation is purpose-built and appropriate to its residential neighbourhood
University: a comprehensive and coherent response to the challenge of providing affordable, sustainable and competitive student accommodation that will help to consolidate the University's reputation and international standing, as well as to address current and future conferencing needs.
Chaired by the Registrar of the University, the Board's members include senior academics, students, Support Services staff and external advisers. To help it devise the plan for the future, the Board will listen carefully to students, staff and residents' groups, who will be kept involved through face-to-face meetings and a dedicated website. The Board will also be responsible for investigating how the investment required might be found.
Once an outline of the basic options has been drawn up (probably by spring 2008), there will be further extensive consultation prior to the submission of any planning applications to Bristol City Council.
If you would like to raise any matters relating to the University's residential strategy at this stage, please contact Fiona Thompson of the Planning, Policy and Project Support Office (f.thompson@bristol.ac.uk).