View all news
Four Leverhulme Prizes for Bristol academics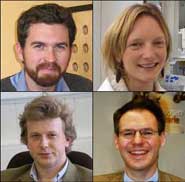 5 November 2007
The 2007 Philip Leverhulme Prizes include four for Bristol academics - and the fourth win in a row for the Department of Philosophy.
Four academics from Bristol have been awarded a 2007
Philip Leverhulme Prize
. These Prizes are awarded to outstanding scholars (normally under the age of 36) to recognise a substantial contribution to their field of study and a highly promising future international career.
The Bristol recipients are:
Dr Leitgeb's success marks the fourth time in a row that a member of the Department of Philosophy has won a Philip Leverhulme Prize in the Philosophy and Ethics category (previous recipients were Dr Jessica Brown, Dr Samir Okasha and Professor James Ladyman).