View all news
Proposals for precinct development: opinions invited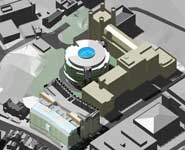 6 November 2007
New proposals for creating new research and teaching accommodation for the University's departments of Biological Sciences and Mathematics are now on display in Senate House and online.
The proposed development is to be built on part of the old Children's Hospital site on the corner of St Michael's Hill and Tyndall Avenue.
The proposed development will create over £94 million of education and research facilities and laboratories for the Biological Sciences and Mathematics Departments. It will also improve the public realm and include a new public route into Royal Fort from St Michael's Hill.
The University and its project team would like to share their proposals with the local community and invite feedback before finalising the scheme and submitting a detailed planning application. A public exhibition of the proposals is on display from Monday 5 November to Friday 14 December 2007 in the University's Senate House on Tyndall Avenue, from 8.30am to 5.30pm Monday to Friday.
There will also be an opportunity to meet some of the people behind the proposals between 5pm and 7pm at Senate House on Wednesday 7 November and Wednesday 28 November. Visitors to the exhibition will be able to discuss in more depth any queries they might have and talk face-to-face with representatives from the University and the project team.
Last July the University of Bristol's precinct masterplan was successfully adopted as Supplementary Planning Document (SPD11) by Bristol City Council to guide the physical development of the heart of the University area over the next 20 years. This identifies opportunities for new, high quality buildings and public spaces as well as the conservation of historic buildings and landscapes. New buildings will accommodate the top quality research and teaching space the University needs and bring together a number of student facilities to form a new social heart to the University campus. The masterplan also outlines proposals for improving public access through the University, creating a safer, more attractive environment and looking at innovative ways of managing traffic. Detailed planning applications have to be submitted for each phase of development that comes forward within the precinct.
Details of the masterplan are available at www.bris.ac.uk/Depts/Bursar/masterplan.html.