View all news
New Enterprise Competition 2008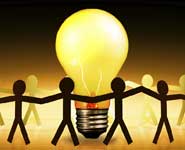 12 October 2007
The 2008 New Enterprise Competition run by Research & Enterprise Development (RED) features a prize fund of over £35,000 - and a new award for the best entry submitted from the School of Chemistry.
If you have a great business idea, you could win a share of a prize fund in excess of £35,000 in the 2008
New Enterprise Competition
run by
Research and Enterprise Development (RED)
. This annual competition is open to all University staff and students as well as graduates from the last five years.
The 2008 Competition will also feature the Timms-Smith Award for the best entry submitted from the School of Chemistry. This award, supported by BOC Edwards, aims to recognize the achievements of Dr Peter Timms and Bob Smith, whose scientific collaborations over many years led to the commercialisation of a gas abatement system for purifying waste gas streams. This technology makes a highly significant environmental impact and is now both the world leader in the global semi-conductor market and a multimillion-dollar business within the BOC Group.
To qualify for the Timms-Smith Award, proposals must be science/technology-based and innovative, with a clear potential to improve our environment and/or quality of life. All members of the School of Chemistry – staff, postgraduates and undergraduates – are eligible; entries may include co-applicants from outside of the School. In addition to a £1,000 prize, BOC Edwards will offer the winner additional support and advice to develop their business plan towards the final phase of the New Enterprise Competition.
The Timms-Smith Award will be judged by a panel drawn from BOC Edwards and the School of Chemistry.
To enter the New Enterprise Competition, you must submit an entry form outlining your business idea by 26 February 2008. The best entries, as judged by a panel of experts, will then be invited to submit full business plans. Winners, to be announced at the prestigious Enterprise Dinner in the summer of 2008, will be awarded cash prizes and support to help bring their ideas to the marketplace.
For further information see the RED's competition page.