View all news
Survey of copyright photocopying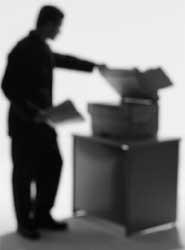 20 September 2007
A survey of copyright material being photocopied in the University will take place from 15 October for 30 working days.
The survey will be conducted by the Copyright Licensing Agency (CLA) at photocopiers within the Faculties of Arts, Engineering and Social Sciences and Law.
The licence fee paid by the University is held by the CLA until indications of copying enable appropriate payments to be made to the rightsholders. A fair balance in the world of intellectual property is important because the rightsholders need users as much as users need the creators of copyright works. The sole purpose of the survey is to complete the cycle and reward the authors and publishers, thereby encouraging creativity.
If you want to photocopy from books, journals or magazines, please take a few moments to read the red instruction poster that will be displayed by the photocopier. All that is required is a single sheet that identifies the book (title or verso page) or journal/magazine. For journals or magazines, you will also need to indicate the relevant article. You will then need to attach a sticker indicating the number of copies required and place the sheet of paper in the yellow box.
Thank you for your co-operation.
For more information, please contact Clare Smith, Property and Commercial Lawyer, tel 928 8916 (internal 88916), email clare.smith@bristol.ac.uk.