View all news
Beyond Brunel: creative design for the future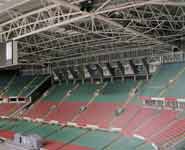 Press release issued: 25 July 2007
Bristol's first sustainable sports park and international stadium is the challenge for local pupils to design during a week-long summer school.
Bristol's first sustainable sports park and international stadium is the challenge for local pupils to design during a week-long summer school.
The 'Beyond Brunel' summer school will be run by the University of Bristol's Department of Civil Engineering and Graduate School of Education in collaboration with Explore-At-Bristol science centre and the Science Learning Centre South West from Monday, July 30 to Friday, August 3.
The summer school aims to demonstrate that inspirational and creative engineering is happening today and responding to society's needs. Thirty-six year 8 (aged 12 to 13) pupils will hear talks from experts on the creative architectural and structural design of sports stadium and sustainable design for the future.
Through hands-on activities pupils will explore the roles of civil engineers, architects and environmental designers and planners, and learn about basic structural and architectural concepts involved in designing a stadium as well as the environmental, social and economic factors in creating a sports park to regenerate a city area.
With behind-the-scenes visits to Cardiff's Millennium Stadium and the £500m Broadmead Bristol city centre regeneration project, they will see examples of sustainable, innovative and creative design.
Professor Colin Taylor, Head of the Department of Civil Engineering at Bristol University, who is leading the project, said: "We hope the pupils participating in the summer school will have an exciting and stimulating experience. It is a great opportunity for them to appreciate that civil engineering is an interesting, creative and rewarding career.
"Civil engineering companies foresee a huge demand, for many years to come, for young engineers to take on the exciting challenges of innovative, responsible and sustainable designs for our built environment for current and future generations."
"We are delighted to be one of the key partners in developing and delivering this new and exciting summer school. We hope pupils will have an amazing week of interactive activities that will enthuse them to learn more about engineering, encourage creative thinking and give them a real insight into how engineering is innovative, contemporary and fun," added Ian Tsang, Learning Officer at Explore-At-Bristol.
Finally, working in multidisciplinary teams of six, students will design their own sports park and stadium for Bristol. They will produce architectural computer designed images of stadium using professional and cutting-edge architectural computer-aided design (CAD) software (ArchiCAD), construct physical 3D scale models of stadium and produce plans and models of the sports park.
At the end of the week, the teams will 'pitch' their proposed designs to a panel of expert judges. Prizes, including laptops and digital cameras, will be presented to the team with the best overall design for the sports park and stadium, and to individuals with the best architectural design, the best stadium model and the most sustainable park design.
The prizes are being sponsored by ARUP, Atkins and Buro Happold, all firms of international engineering consultants. Graphisoft are also supporting the summer school by providing free licences of their ArchiCAD 11 architectural building information modelling (BIM) software and staff to assist the students using it. The summer school has been developed with funding from the Engineering and Physical Sciences Research Council (EPSRC).
Further information
The six Bristol schools participating in the summer school are: Bedminister Down School, Bristol Cathedral School, The City Academy Bristol, Hartcliffe Engineering Community College, John Cabot City Technology College and Redland High School for Girls.