View all news
Renowned neuroscientist gives 2007 Lord Sainsbury Lecture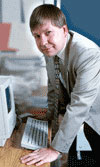 20 July 2007
Professor Trevor Robbins was the distinguished speaker at the 2007 Bristol Neuroscience (BN) Lord Sainsbury Lecture earlier this week.
Professor Robbins' talk, entitled 'Chemistry of the adaptive mind: implications for neuropsychiatry', was introduced by Professor David Nutt, who heads the Psychopharmacology Unit in the
Faculty of Medicine and Dentistry
.
A major figure in today's neuroscience research, Professor Robbins is Professor of Cognitive Neuroscience and elected Chair of Experimental Psychology at the University of Cambridge. He is also Director of the newly established Cambridge MRC Centre in Behavioural and Clinical Neuroscience.
His research interests span the areas of cognitive neuroscience, behavioural neuroscience and psychopharmacology. His main work focuses on the functions of the frontal lobes of the brain and their connections with other regions, including the so-called brain reward systems that have been discovered in both animals and humans. These brain systems are highly relevant to such psychiatric and neurological disorders as Parkinson's, Huntington's and Alzheimer's diseases; frontal lobe injury; schizophrenia; depression; drug addiction; and developmental syndromes such as attention deficit/hyperactivity disorder (ADHD).
Among his many distinctions, Professor Robbins is a Fellow of the Royal Society, a Fellow of the British Psychological Society and a Fellow of the Academy of Medical Sciences.
The BN lectures are co-hosted by the British Neuroscience Association. The Lord Sainsbury Lecture Series was started in 2004 to mark the event of Lord Sainsbury of Turville becoming patron of Bristol Neuroscience. The series aims to highlight the work of one individual each year who has made outstanding contributions to the field of neuroscience. This year's lecture was a particularly special occasion, as earlier in the day Lord Sainsbury received an Honorary degree from the University, and later attended the lecture.
The principal sponsor of the 2007 Lord Sainsbury Lecture was GE Healthcare, a provider of new medical technologies using medical imaging, diagnostics, drug discovery, IT, and patient monitoring systems.