View all news
Judy Willis 1949-2007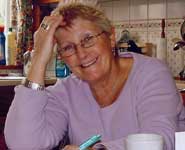 17 July 2007
Sue Sadler, Jill Klee and Lyn Chapman remember a charismatic, multi-talented member of the Children of the 90s team.
Judy joined Children of the 90s in 1999 when the study children were 7-8 years old. As a receptionist hosting the families' visits to the Focus Centre, she brought very special talents with her. She was charismatic and full of fun, entertaining and challenging children – and parents and staff – with her jokes, puzzles and juggling lessons. She could use her lovely singing voice to lift the mood in the reception area and she contributed to staff entertainments, using a wicked turn of phrase when writing new lyrics to well known music. She was an accomplished linguist and would use other languages with the families whenever the opportunity arose.
Her garden and allotment often provided surplus vegetables for staff. Her energy was extraordinary, ample for her large family and the foreign students who stayed with them as well as her job. Like champagne, she was full of bubble and sparkle and made one feel good. She inspired us all and spread much happiness. We miss her and will remember her with great affection.
Our thoughts are with her family including her husband Ian, her children Cathy, Sarah, Rachel, Matthew and Bobby and grandsons William and James.