View all news
Resource pack helps disabled children speak out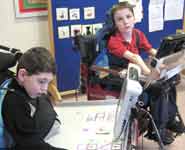 Press release issued: 13 July 2007
Children with little or no speech could soon be communicating their views thanks to the launch of a new resource pack for teachers.
At present, many disabled children, particularly those children with limited vocal language, are excluded from being involved in decision-making processes in schools. Thanks to t
he launch of a new resource pack for teachers this Friday [July 13] children with little or no speech could soon be communicating their views.
The Participation in Education (PIE) research project has been exploring approaches for including disabled children, aged 7-11, with little or no verbal communication in decision-making at school. This is groundbreaking work as it is often very challenging to help such children communicate their views.
Researchers from Bristol University's Norah Fry Research Centre and the Graduate School of Education conducted a national survey of practices in special and mainstream provision and relationships were established with 11 disabled children with little or no verbal communication attending two special schools in Bristol and Cheltenham.
Time was spent with these children, and interviews were held with their parents, teachers, head teachers, speech and language therapists and teaching assistants as well as other professionals. The project has been funded by the Esmée Fairbairn Foundation.
Key findings from the research project include:
There needs to be better sharing of good practice, both within and between schools.
Children can be included in all aspects of decision-making at some level, given the right support and the motivation.
An increase in whole school and whole local authority approaches to communication is needed to ensure continuity.
Children with little or no speech are increasingly successfully involved with their reviews, school councils and target setting.
More training and support with communication is needed, for professionals, families, and for teaching assistants in particular as they play a vital role.
The funding and insurance of communication aids is an issue that needs to be addressed.
Nearly 100 teachers and professions from Bristol and the South West will attend Friday's launch event of the resource pack, I want to choose too, at the University's Graduation School of Education. Pupils and staff from Bettridge School in Cheltenham will also talk about the work they carry out around communication at their school.
The pack contains 'messages' from children and other participants, and examples of good practice and materials that can enhance children's participation.
Debby Watson, Research Fellow at the Norah Fry Research Centre, who has played a key role in developing the pack, said: "Our inspiration has been the desire that young people have to communicate, however difficult that is for them, and the joy they find in being heard."
Further information
'I want to choose too', a resource pack for teachers and others for including primary school age children with little or no speech in decision-making, by Debby Watson, Anthony Feiler and Beth Tarleton, University of Bristol in association with Bristol City Council and the SW Regional Partnership.