View all news
Foundation degree first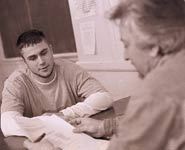 Press release issued: 9 July 2007
In a unique development, the University of Bristol is joining forces with City of Bristol College to offer people in employment the opportunity to take a foundation degree in counselling.
In a unique development, the University of Bristol is joining forces with
City of Bristol College
to offer people in employment the opportunity to take a foundation degree in counselling. The foundation degree in counselling, geared towards people's work needs and personal development, will be launched at the University's
Bristol Institute of Public Affairs
on July 12.
Supported by the Lifelong Learning Network, the aim of the course is to offer innovative, non-traditional and unique learning opportunities for local students wishing to increase their personal learning and develop professional skills through work-based learning, community-based learning and continuing professional development.
Up to 52 students will have the opportunity to join the programme, which starts in October. The course also offers a progression route to an honours degree year leading to a BSc.
Becky Midwinter, Director of the University's Centre for Personal and Professional Development, said: "Students studying for the foundation degree will be ahead of the game, as the government plans to formalise counselling training.
"Flexibility is central to many aspects of the foundation degree and we hope the course will attract a wide range of traditional and non-traditional local students, from diverse backgrounds and of all ages."
Judy Stradling, Vice Principal at City of Bristol College, added: "As the largest provider of foundation degrees in the west of England this partnership strengthens our offer and opens up more opportunities for local people to study at a high quality college and top university."
The foundation degree will fit within the newly formed Centre for Personal and Professional Development (CPD) within the University's School of Applied Community and Health Studies.
In addition to the foundation degree in counselling, the Centre offers interesting and diverse programmes suitable for all levels of study. At entry level there is a 'capsule' range of short courses which has been refined over the years to include some of the most popular and frequently requested subjects such as loss and bereavement, art therapy and introductory courses in counselling.
There are also programmes at diploma level with the diploma in creative writing for therapeutic purposes and the well-established British Association for Counselling and Psychotherapy (BACP)-accredited postgraduate diploma/MSc in counselling.
Further information
Bristol University is committed to providing the highest standards in teaching, learning and research and to making these activities accessible to students from all walks of life.
The University's Centre for Personal and Professional Development is part of Bristol Univeristy's engagement strategy, offering and maximising opportunities for personal growth and professional development.
City of Bristol College
Over the last few years City of Bristol College has emerged as one of the region's leading education providers. Major expansion and management restructuring have created a further and higher education college at the forefront of its field.
One of the largest further education colleges in the UK, the City of Bristol College offers over 1,000 courses at all levels for both 16-19 year olds and adult learners. Currently catering for 30,000 students and employing over 2,000 staff, the College delivers a significant majority of the post-16 educational provision in the greater Bristol area.
The number of full-time students aged under 19 has grown by 33 per cent over the last four years and College student numbers stand at 7,000 16-18 year olds and 24,000 adults.
Over 2,000 higher education students and a growing Foundation Degree programme in partnership with a number of universities including UWE, University of Plymouth, Kingston University, Bath Spa University, University of Bristol and University of Bath. In February 2006 Ofsted inspectors visited the college and were particularly impressed with the college's outstanding leadership and management which promotes a culture of quality improvement and provides clear direction.
In 2004 the college received the prestigious 'excellent' status for its work in driving forward educational standards in the region, following a performance review carried out by the Learning and Skills Council. The college was the only establishment to receive an 'excellent' rating in the West of England and is one of the top ten per cent of colleges nationwide to achieve the status.
The City of Bristol College also holds Centre of Vocational Excellence (CoVE) status for three fields of study – Aeronautical Engineering, Supervisory Management and Hospitality Management – is classified a category 'A' for its strong financial health, and is used by Ofsted as an exemplar of good employer engagement practice.