View all news
Familiar endings, new beginnings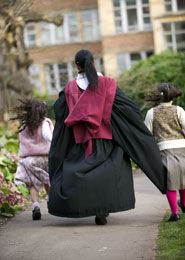 3 July 2007
As graduation comes round again, the Vice-Chancellor reflects on the past, looks to the future, and leaves us to imagine him in a hat with corks.
Summer is upon us, although you wouldn't be able to tell that by the weather! Graduation is just round the corner and then we can all take some well-deserved rest. I love graduation because it is an unalloyed pleasure for everybody and also formally reaffirms what our purpose is. We cannot underestimate how important it is to our graduands. When my wife, Narell, received her History degree from Southampton in 2000, she woke up the following day and her face was aching. She realised that was the result of her smiling all day – that's how enjoyable the day was and how much it meant to her.
Mind you, graduation is an acute reminder of tempus fugit. First, it seems to come round quicker each year. More pointedly, we are graduating some of our daughter's friends and the daughter of someone who was in my year at Newcastle in 1971. Not too long before the bus pass, I fear.
We now have a new Prime Minister and a new ministry. It is highly unlikely that there will be any major policy changes for us. Gordon Brown has been heavily involved with universities during his time as Chancellor. I am delighted at the new Department for Innovation, Universities and Skills. To have a Department of State with the name of your sector in its title can only be positive. It also aligns us with the areas in which we impact on society – Innovation and Skills. We are very different institutions from schools, and separating us from their issues may allow clearer thinking about the future of universities. It will be important to ensure that the separation does not damage the important factors in the transition from school to university – good intellectual preparation, access and widening participation.
It is now almost six years since I started at Bristol and we have faced some significant challenges in that time: restructuring, workplace culture, increased fees, a four-week pounding in the Press about our admissions policy, Reward and industrial action, to name but a few. However, we have addressed or overcome these and I find a university with plenty to feel confident about. We are on the way with our investment programme, which will ensure we continue to be one of the world's great universities. I think our positive sense of ourselves and of the University's future is exemplified by the tower of the Wills Memorial Building, which is looking simply fantastic since its renovation. I cannot count the number of times people from the university and city have commented to me how wonderful it looks. I don't know if a university can be exemplified by a tower or whether I'm just becoming a hopeless old romantic, but there will be an extra spring in my step and an extra feeling of pride as I walk in to the Wills Building for the ceremonies this year.
I would like to thank all of you for the hard work and commitment you have shown throughout the year. We have superb staff in all parts of the university and that is our biggest strength. I hope you have a very enjoyable holiday – Narell and I are off to Australia to visit our son, who is on a gap year there. I promise not to be wearing a hat with corks when I return.