View all news
Pope honours Bristol Catholic theologian and ecumenist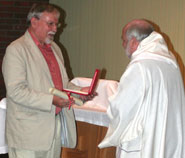 3 July 2007
Dr Mervyn Davies, an honorary member of staff in the Department of Theology and Religious Studies, has received a Papal Cross for distinguished service to the Church.
Dr Mervyn Davies, a Roman Catholic layman and educationalist whose distinguished career as a teacher and ecumenist has spanned some 40 years, received the award on 29 June. He has been Director of Academic Programmes and Tutor Librarian at Wesley College, Bristol, the oldest Methodist College in Great Britain, since 1992. This unique role has built significant bridges between the Methodist Church, the Roman Catholic Diocese of Clifton and the wider Church.
Dr Davies has a background in both secondary and higher education and for 11 years was Principal of St Brendan's Sixth Form College. Revd Dr Jonathan Pye, Principal of Wesley College and a Research Fellow in the University's Centre for Medical Ethics said: 'I am delighted that the Pope has afforded Dr Davies this honour. His contribution to both Methodist and ecumenical education has been outstanding.'
Dr Davies has many years' experience in leadership training and consultancy for churches in the region. He contributes to the teaching of theology and postgraduate supervision at the University's Department of Theology and Religious Studies and continues to research in the fields of leadership and Newman studies. Dr Davies has been responsible particularly for the development of postgraduate studies at Wesley College, Bristol. He is currently President of the Bristol Theological Society and lectures widely on Newman and on Church leadership. He is a former member of the British Methodist/Roman Catholic Committee.
Professor Gavin D'Costa, Head of the University's Department Theology and Religious Studies, said: 'The department is delighted at the news of the award. Mervyn Davies' honour is most richly deserved. This year, only two other people in the UK have been so decorated. He has taught part-time in our department for a number of years and also facilitated a creative link between the University and Wesley College. His tireless love of theology breaks forth in his teaching, administration and research.'