View all news
Does posting your own content online inspire learning?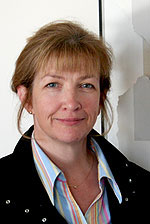 28 June 2007
Professor Angela McFarlane in the Graduate School of Education has been awarded an AHRC/BBC grant worth £100,000 to research social learning in user-generated content communities.
Professor Angela McFarlane in the
Graduate School of Education
has been awarded a grant worth around £100,000 from the
Arts and Humanities Research Council
(AHRC) in partnership with the
BBC
.
The money will be used to fund research into social learning in communities that grow up around user-generated content (UGC) websites, such as BBC Blast, where online content is produced by ordinary people rather than media professionals.

The project, entitled 'Alone Together – Learning in Online Communities', will investigate who is posting UGC and what motivates them; whether UGC sites, particularly BBC Blast, effectively engage users and inspire creative learning; and how such sites can be developed to build on this.
Professor McFarlane said: 'The grant is particularly noteworthy, as the AHRC does not normally provide funding in the field of education. It is an excellent opportunity to work with one of the premier providers of online services to research the potential for learning around the production and sharing of creative content.'