View all news
Dinosaur event for kids of all ages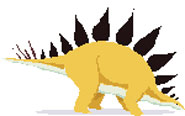 Press release issued: 15 April 2007
To mark the launch of DinoBase, an online resource for dinosaur fans, the University of Bristol is hosting an event for children of all ages
To celebrate the launch of DinoBase, a new interactive resource for dinosaur fans of all ages, palaeontologists at the University of Bristol are hosting an event for local school children at 10.00 on Tuesday 17 April.
As Professor Mike Benton notes, 'We all know that children have a natural curiosity for dinosaurs and that they sometimes have an amazing knowledge of these beasts, often better than that of adults around them, so we hope that the information on DinoBase will satisfy their enthusiasm.'
Children will be shown how to search the database for their favourite dinosaur, find out its species, when and where it lived, what it ate, how big it was and how to pronounce its tongue-twisting Latin name. They can also browse the colourful picture galleries to see what dinosaurs looked like in their prehistoric world.
Did you know, for example, that the Albertaceratops nesmoi, which means 'Alberta horn-faced', was only discovered this year in Canada? It is a centrosaurine ceratopsian dinosaur with a pair of long horns on the brow and a blade-like nasal horn. It lived about 75 million years ago, was 6 metres long and weighed 2 tons.
There will be lots of experts on hand on the day to answer questions about dinosaurs, fossils to look at and lots of other fun activities to do.
After the event, dinosaur fans can look at DinoBase from their computer at home or school and, through an online forum, ask questions about dinosaurs, which experts at Bristol University will answer.
The database will continue to grow in the future as new discoveries are made and more features are added. There will be a news section that will report the most recent happenings in dinosaur research, and a 'New Dinosaur' alert system that will let visitors know about new discoveries.
Further information
The event will take place at 10.00 on Tuesday 17 April in the Department of Earth Sciences, University of Bristol, Wills Memorial Building, Queen's Road, Bristol BS8 1RJ. For more information, contact Sarda Sahney on 07962 472732.