View all news
Composites advance at Bristol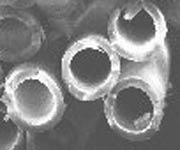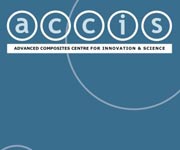 Press release issued: 16 April 2007
A new centre that is expected to break new ground in the development and application of advanced composites and intelligent structures opens today [Monday, April 16].
A new centre that is expected to break new ground in the development and application of advanced composites and intelligent structures will be opened at the University of Bristol today [Monday, April 16] by Malcolm Wicks MP, Minister for Science and Innovation.
The Advanced Composites Centre for Innovation and Science (ACCIS) will bring together research across the University in composite materials, which are crucially important for UK engineering companies to maintain international competitiveness.
The construction of large aircraft is becoming increasingly dependent on composites rather than metals. If the production of such aircraft is to remain in this country, UK engineering has to rise to new design and manufacturing challenges.
Alternative energy technologies such as wind power are rapidly developing and offer increasing opportunities for the use of advanced composites.
The UK supply of composite materials is worth £1.5 billion per year, providing the foundation for the country to become a world-class player in this rapidly progressing area.
The Centre, supported by the South West of England Regional Development Agency, will combine leading-edge scientific enquiry with strong industrial collaboration, especially with Airbus, Rolls-Royce and Smiths Aerospace. It aligns with the Government's Science and Innovation Framework ambitions of 'world-class research at the UK's strongest centres of excellence' and of providing 'a strong supply of scientists, engineers and technologists.'
Based in the University's Engineering Faculty, ACCIS will also collaborate with the Science and Medical Faculties to take advantage of breakthroughs in fundamental science and apply them to a wide range of practical applications.
Michael Wisnom, Director of ACCIS and Professor of Aerospace Structures in the Department of Aerospace Engineering, added: "ACCIS will catalyse the integration and application of the University's existing research capability, forming a major international Centre, raising the profile of advanced composites and attracting the brightest people.
"The Centre will contribute significantly to increasing capacity in this strategically important area of science and innovation for the UK, and will ensure that UK Advanced Composites is at the forefront of global developments."
The South West of England Regional Development Agency is jointly sponsoring the launch, recognising that ACCIS is working in a field in which the South West can excel and that the Centre should make a strong contribution to the achievement of national objectives.
Juliet Williams, Chairman South West RDA, "Only 10 years ago composite technologies were almost unheard of outside Formula 1 but today there are a staggering 33,700,000 references to composite materials on Google and increasingly they are used in marine, construction, medical devices and even jewellery.
"To keep pace with this change, companies in South West England need to improve their awareness of these technologies and adapt their practices to make the most of them. To make this happen it is essential that the universities, businesses and public sector work together to make sure that the region retains its market position in the face of the huge challenges from China and India as well as the US, Europe and Japan.
"It is for this reason the South West RDA has invested £10 million to support aerospace research with regional companies. And as part of this we hope that the £500,000 investment we made buying the equipment needed to run this facility here in Bristol will help us to keep us at the forefront of the industry."
Further information
A number of ACCIS' ground-breaking research initiatives in composites will also be launched at the opening on Monday 16 April:
SMARTCOMP (£1.25 million). The Smiths Aerospace University Technology Strategic Partnership (UTSP) with the Universities of Bristol and Oxford, and supported by EPSRC, will carry out revolutionary research in smart composites technology. The project, called SMARTCOMP, will focus on approaches such as using 3D composites to make aircraft parts lighter and reduce operating costs and on self-actuating composites that change their geometry or shape in response to internal or external forces. SMARTCOMP will lay the foundation for far-reaching composites innovation over the longer-term.
CORAL-REEF (£0.7 million). Major new equipment for the University's BLADE Engineering laboratories funded by SWRDA and Airbus, linked to the Airbus Composite Structures Development Centre at Filton and DTI funded National Composites Network.
Bristol-Bath Collaboration on Composites (£0.9 million). Joint studentships between the University of Bristol and the University of Bath funded by the Great Western Research Alliance (SWRDA/HEFCE).
ROLLS-ROYCE – A new University Technology Centre (UTC) in Composites to further develop this technology for future products across Rolls-Royce's aerospace, marine and energy markets.