View all news
Dr Derek Zutshi, 1930-2007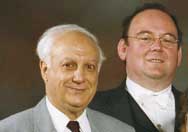 22 February 2007
Dr Derek Zutshi, a former Chairman of Convocation and a member of Council and Court, has died.
Dr Derek Wyndham Hariram Zutshi was born on 26 April 1930, the son of Lambodha Zutshi, a consulting mining engineer and geologist of Srinager and London, whose family had been advisers to the Maharajas of Kashmir for many centuries, and Eileen Dorothy Wyndham Lord. He was to follow his father's example of public and private service as embodied in his establishment of the Kashmiri Association of England. Through his father's family, he came to know many of the leading politicians in post-independence India, including the Nehrus.

His early education at the Convent of Our Lady of Sion and Montpelier College, Brighton was interrupted by the threat of invasion in 1940 and he returned to India where he attended Clarence High School, Bangalore and latterly the Cathedral High School, Bombay. At the end of the war in the Far East, he returned to Britain and studied at Epsom College, Surrey between 1946 and 1948, before spending a year at the Northern Polytechnic in London.
In October 1949, Dr Zutshi came to the University of Bristol to study medicine and took up residence in Wills Hall, which was to become his much-loved home for his first four years at the University. Here he forged friendships with men who were to become lifelong friends, including John Bosanko, later his best man at his wedding in 1974 and Chairman of Convocation. In Wills, he was an active member of many of the hall's student societies and went on to be equally active in the Students' Union, then based in the Victoria Rooms, serving as Bristol Secretary of the National Union of Students between 1952 and 1953. He was elected President of the Union for 1953/54, but was involved in a serious motorcycle accident before he could take up office. This involved almost three months in the Bristol Royal Infirmary and a long period of convalescence. The presidency was taken over by John Bosanko.
Following graduation in 1957, Dr Zutshi was a house officer at the Bristol Royal Infirmary and then at Southmead Hospital under the doyenne of paediatricians, Dr Beryl Corner. After spells in Cardiff and Taplow, he served as Senior Registrar in Rheumatology and Clinical Tutor in Medicine between 1968 and 1973 at the London Hospital, and then as Medical Director of the School of Physiotherapy and Consultant in Rheumatology at the Prince of Wales's General Hospital between 1973 and 1977. From 1977 to 1986, he was Senior Medical Officer of the Medicines and Communicable Diseases' divisions of the Department of Health and Social Security, while also acting as an examiner for the Chartered Society of Physiotherapists and the College of Occupational Therapists and an adviser to the World Health Organization. He also served on the council of, and as the Honorary Secretary to, the British Association for Rheumatology and Rehabilitation, the National Rubella Council and various Disability Appeals Tribunals until his retirement in 1999. Dr Zutshi also found time to build up a large and successful rheumatological practice at 99 Harley Street, which attracted patients from all over the British Isles and abroad. He was a Fellow of the Royal College of Physicians.
Outside the practice of medicine, he was an enthusiastic supporter of research into medical history, publishing a paper on Sumerian medicine, and served on the Council of the Hunterian Society between 1978 and 1996, and as its Treasurer between 1979 and 1992 and as President in 1993/94. He was also an active member and a liveryman of the Worshipful Society of Apothecaries. A freemason, he served as master of his lodge and was awarded London Grand Rank. Dr Zutshi was a member of the Board of Trustees of the Hindu Centre in London between 1962 and 1995 and Chairman between 1984 and 1995, successfully negotiating the many potential pitfalls of this challenging post. He also served on the Board of Governors of Tottenham College of Further Education between 1974 and 1990, as Vice-Chairman for nine years, and was a Freeman of the City of London. Dr Zutshi's many interests included travel, music and reading, and he was the author of various papers on general medicine, immunology and rheumatology.
Dr Zutshi retained close connections with the University of Bristol after graduation, serving on Court between 1958 and 2006; as an active, popular and effective Chairman of the Wills Hall Association between 1983 and 1988 (when he established a fund to further the work of the Association and enhance student life in hall); as a member of the Standing Committee of Convocation between 1981 and 2006; as a tireless, visionary, tenacious and combative Chairman between 1988 and 1998; and as a member of Council from 1988 to 2000. Here he distinguished himself by his championship of the student body, overseas students, Convocation, and the halls of residence, appreciating the vital and integral part that they play in the life of the University. He also championed the University's recognition of the many talents and skills of its graduates by encouraging the election of members of Convocation to the main committees of Council, and effected the merger in 1994 of the two graduate organisations in the University, the Association of Alumni and Convocation, establishing a new committee structure to reflect the changes. He also pioneered the creation of associate membership of Convocation for former students holding diplomas, certificates and testamurs from the University and for retired members of staff not holding Bristol degrees. One of the main achievements of his chairmanship was the revival of the London branch of Convocation, which had fallen into abeyance in the 1980s, and the formation and expansion of a number of overseas branches, in which he was assisted by his network of friendships. During his chairmanship, he visited most of the overseas branches in the company of his wife, the Vice-Chancellor Sir John Kingman, FRS and Lady Kingman. His immense contribution to the life of the University was recognised by the conferment upon him of the honorary degree of LLD in 1999.
Dr Zutshi was married for more than 30 years to the late Dr Marguerite Elizabeth Montague Smith, FRCP, who was a constant source of support and encouragement to her husband in his many endeavours, and managed to combine a demanding career with being a gracious and sensitive hostess. She was regular in her attendance at Convocation and Wills Hall Association events and will be long remembered in the University for her gifts as a conversationalist, her tact, her warmth, charm of manner, and her gentle, but acute powers of perception. She had the power of attracting people to her and winning their friendship and trust. Her death on 7 June 2006, following a long illness, was a severe blow to Dr Zutshi, who was by this time unwell himself.
During his many years of involvement with the University, both Dr and Mrs Zutshi were noted for their public and private benefactions to many areas of the life of the University, including to the Alumni Foundation, to charities with many volunteers from the University, such as the Heswall Disabled Children's Holiday Fund, and to individual students, many from overseas, who were experiencing financial difficulties. By their wills, Dr and Mrs Zutshi have established the Smith-Zutshi Foundation to continue their work.
Dr Zutshi's tireless enthusiasm for the University, his deep commitment and single-mindedness, his example of unostentatious public service, and his capacity to form deep and lasting friendships are an example to us all. He will be remembered with respect and affection by many generations of staff and students.
M J Crossley Evans