View all news
Honorary degrees awarded [Wednesday, 21 February]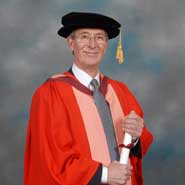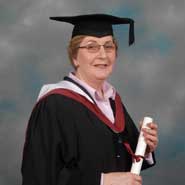 Press release issued: 21 February 2007
Bristol University is awarding honorary degrees to two prominent people at today's degree ceremonies in the Wills Memorial Building [Wednesday, 21 February].
Bristol University is awarding honorary degrees to two prominent people at today's degree ceremonies in the Wills Memorial Building [Wednesday, 21 February].
JOHN PONTIN, OBE, owner of JT Group, businessman, environmentalist and 'green' developer will be honoured with the degree of Doctor of Laws at the 11.15 am ceremony.
John was brought up in the Southville area of Bristol. Aged 16, John joined the Bristol building firm of John Knox and worked his way up from tea boy to junior building surveyor. After turning 21 in 1958, he gained a Higher National Diploma and won the South West's annual quantity surveying award and, his future business partner, Tim Organ, joined the firm.
Both John and Tim worked together on contract planning, but grew frustrated by the adversarial nature of the business. John and Tim felt that a more holistic approach might be the answer. With their 1960 Christmas bonus of £100 each, the pair struck out on their own and established JT (Bristol) Limited – 'J' for John and 'T' for Tim. Their office was Tim's bedroom in Coronation Road, South Bristol. John was 23.
A trip to New York in 1962 brought John into contact with some of Manhattan's real-estate pioneers. The visit strengthened his conviction that the way forward was to dispense with traditional professional barriers and bring together architects, engineers, surveyors, builders and property managers. Collective energy could then be focused on the needs of the client, who would benefit from lower costs and fewer delays.
JT's approach worked. The firm started to win awards. Eighteen months after their business was born, the partners were able to move it out of Tim's bedroom and into proper offices. JT doubled its turnover each year during the early '60s, focusing on striking, modern design and speed and ease of construction.
Tim Organ left the company amicably in 1969 to set up on his own, but JT – both the firm and the name – continued. The early '70s saw the company prosper. Its staff of over 50 worked in open-plan offices. One of the firm's most successful creations at that time was the high-density, low-rise housing development in Bristol's High Kingsdown, which won four national awards.
During the 1970s, JT created all manner of buildings in the UK, from country clubs to warehouses and from churches to swimming pools. There was work abroad, too, including the marble-clad Municipality Building in Dubai.
He was among the prime movers in rescuing the Bristol City Docks from near-dereliction and has played a significant role in progressing one of the UK's most difficult waterfront regeneration programmes.
JT bought the lease on a Grade II listed Victorian warehouse on the quay side and spent 18 months renovating the building to create a new home both for itself and for Arnolfini, Bristol's groundbreaking centre for the performing and visual arts.
In subsequent years, JT initiated a scheme to build a pedestrian bridge across the water between Arnolfini and the Watershed. Opened in 1999, Pero's Bridge, named after a black slave who died in Bristol in 1798, was the product of an artist working with engineers to create something functional and visually stunning.
A further example is his leading role over many years in the development of Dartington Hall, a unique blend of educational, cultural and business enterprises on a sprawling rural estate in South Devon. Then there are his close ties with the restoration and use of Leigh Court, a Palladian mansion just outside Bristol that JT rescued from the receiver and turned into a tranquil base for a range of business and allied interests.
The list of other projects, initiatives and organisations to which John has devoted his time and talent is staggering. It includes a radio station, a charity that manages philanthropic giving on behalf of donors, and numerous bodies involved in education, conservation, strategic planning and regeneration.
John is also a leading light in the Go Zero sustainability project in his home village of Chew Magna. The project may mean that Chew will become the first village in the UK that can fairly claim to be carbon neutral.
JT, which John has led for over 40 years, has established a not-for-profit company called Under the Sky. Under John's chairmanship, this new organisation is working in partnership with public bodies and charities to restore or create places in which local businesses and community enterprises can thrive. The company is dedicated to urban regeneration on a human scale, releasing the economic, social and environmental value of neglected sites that are off the radar as far as conventional developers are concerned.
JANE VENNER-PACK, public relations consultant, former member of the University of Bristol Council and Bristol University graduate, will be honoured with the degree of Master of Arts at the 2.30 pm ceremony.
Brought up in Blagdon, Somerset, Jane came to Bristol University in 1953 to read law. She excelled as a student, and in addition to her academic achievements was, in her second year, Secretary to the Law Club, and in her final year its President.
After graduation Jane decided she would not do three years of articles and become a solicitor, but would learn shorthand and typing and set out to earn her living.
Successful in her career, just five years after graduating Jane was appointed as International Public Relations Officer for Revlon, the international perfume giant, based in London. Her brief in this role was to create publicity for the company, to be used in 40 different markets from Japan to Ireland and Australia to Sweden.
During this period Jane worked with the world's top journalists, couturiers, photographers and models organising glamorous launch parties for Revlon fragrances. Jane's success with Revlon encouraged her to establish her own successful public relations business, which she eventually sold, to continue as a freelance consultant in marketing and publicity. During this period she acted for many well-known names including Boots, Uniroyal and not least McDonalds.
Jane's professional expertise and her way with people fitted her to be an ideal member of Bristol University's governing body, Council. When invited to join Council she welcomed the opportunity to give something back to a University she believed had given her a great deal.
Its powers state that 'it shall set the policy of the University, in consultation with Senate on matters of academic policy, and shall ensure that the Vice-Chancellor and the University officers act to further that policy.'
The membership of the University's Council is carefully constructed. It is made up of ten members of academic staff, including the Vice-Chancellor and three Pro-Vice-Chancellors, three student representatives and 19 lay-members. Lay members may not be members of the University's staff.
Lay members bring a wide range of skills and expertise to the University's governance, undertaking a considerable amount of work without any remuneration.
Jane has been a lay member of Council for nine years, the maximum period the University statutes allow.
Jane has contributed hugely to the work of Council in its role as highest level of the University's appeals and complaints procedures. It is to Council, and its committees, that appeals and complaints by students and staff come when other internal remedies have been exhausted. Jane has chaired many such appeal committees. Her success in this work undoubtedly owes much to her study of law, but it owes even more to the personal qualities she brings to the process. Her reasonableness, fairness and sincerity impress all involved, even the appellants.
In another area of Council's work, recommending those who should receive honorary degrees, Jane has made a further outstanding contribution, identifying many to whom such honours should be granted. As an example Jane put forward the name of Professor Dora Akunyili, Director General of the Nigerian Agency for Food and Drug Administration and Control.