View all news
Honorary degrees awarded today [Tuesday, 20 February]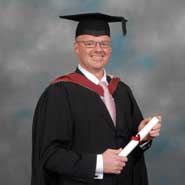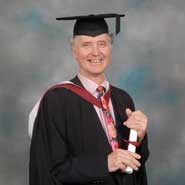 Press release issued: 20 February 2007
Bristol University is awarding honorary degrees to two prominent people at today's degree ceremonies in the Wills Memorial Building [Tuesday, 20 February].
Bristol University is awarding honorary degrees to two prominent people at today's degree ceremonies in the Wills Memorial Building [Tuesday, 20 February].
JOHN GRIMSHAW, MBE, Chief Executive of Sustrans, a sustainable transport charity, will be honoured with the degree of Master of Science at the 11.15 am ceremony.
Born in 1945, John grew up in Kenya where his father was a missionary. By the age of ten John had decided he wanted to be an engineer and after finishing boarding school went on to study engineering and architecture at Gonville and Caius College, Cambridge.
In 1969 John went to Uganda with the Voluntary Service Overseas (VSO) to build roads and to prepare for the Pope's visit. He continued his voluntary work back in the UK, re-routing the narrow-gauge railway in Blaenau Ffestiniog in Wales.
Between 1963 and 1968 John's first job was with Taylor Woodrow Construction, working on the Heathrow cargo tunnel and Barbican projects. He then worked as an engineer with MRM Consultants, Bristol, on projects as varied as China Clay tailings lagoons in Cornwall and proposed cycle routes in Bristol.
In 1977 John organised and spoke at a meeting that was held at College Green to discuss the interests of cyclists and the 'Cyclebag' campaign group was formed as a result of this meeting.
The first Sustrans project was the Bristol to Bath cycle track on the line of the old railway. During the summer of 1979 five miles of usable pathway were completed, the work carried out by an army of volunteers. At the end of the summer the track was officially opened and the Minister of Transport came to the ceremony.
John was then commissioned by the Minister to undertake a study of sustainable transport in the UK. Her Majesty's Stationery Office (HMSO) delivered the huge report with 39 appendices. While the report was largely shelved, the appendices were designed to be used later as the basis of Sustrans routes and thus the National Cycle Network as we know it today. Today 75 per cent of us live within two miles of a National Cycle Network route.
By the mid 1990s Sustrans had built cycle paths all over the country, mostly along old railway lines, but these were not linked together. In 1996 the Millennium Commission awarded Sustans the first ever Millennium grant of £42 million, to develop the National Cycle Network. Three times as much in matching grants was obtained and the result was not only the promised 2,500 miles of joined-up tracks, but 5,000 miles by the year 2000.
By 2005 Sustrans owned and managed over 500 miles of disused railway with 1,100 structures and co-ordinated 10,000 miles of connected tracks. Sustrans now has 200 employees, 70 of whom are in the Bristol offices. John is not only the key person responsible for the National Cycle Network, Sustrans now manages Liveable Neighbourhoods, Safe Routes to School, Travel Smart, Bike It and Active Travel as well as commissioning a wide portfolio of public art.
HESTON BLUMENTHAL, OBE, chef, restaurant proprietor and food technologist, will be honoured with the degree of Master of Science at the 2.30 pm ceremony.
Born in 1966 in West London, Heston's love of food began when, aged 16, he was taken on a family holiday to France and tasted food at a top quality restaurant for the first time in Provence. From that moment on he was determined that he would one day run his own restaurant.
On leaving school, Heston tried to get a job in a top restaurant. After many applications he managed to persuade Raymond Blanc to let him work for a week at Le Manoir d'Quat Saisons. Following this trial period Heston decided that he would earn enough money to buy his own restaurant and so start at the top, rather than the bottom, of the kitchen.
With the support of his wife, Zanna, Heston took on a range of jobs from photocopier salesman to debt collector, meanwhile spending every available hour reading about food and teaching himself classical cooking techniques. He was particularly struck with one book, On food and cooking – the science and lore of the kitchen by Harold McGee, because it explained in a straightforward manner the scientific principles behind much of what happens in the kitchen. It was this book that really started Heston on his journey into the science of cooking.
Over the ensuing decade Heston and Zanna eventually managed to scrape together enough money to get a mortgage on an old, run-down pub in Bray. Heston cooked what was essentially very high-quality French bistro food using his self-taught knowledge gained from Harold McGee's book.
Quite quickly the reputation of the restaurant grew and despite the major limitations of the small, old and ill-equipped pub kitchen the Fat Duck was awarded its first Michelin star in 1998 just three years after opening its doors, the second star came in 2001 and the third in 2004. Keen to keep on improving the quality of his food Heston continued to experiment with ingredients and processes. However, he kept coming up against the problem that cookery texts are often contradictory, rarely explain why they tell you to do what they say you must do and give advice that turns out to be wrong.
At this point Heston decided to turn to the world of science for answers and for him to learn enough of the science of cooking to be able to go against some of the most basic traditions of gastronomy.
Following an initial meeting with Pete Barham, Professor of Physics at Bristol University, Heston started making regular visits to the Physics laboratories in Bristol discovering a whole new world of equipment to heat and cool and to extract flavours.
Heston was soon introduced to many others around the world who were working on the science of food and cooking. Heston's knowledge and use of the science in his kitchen led the Royal Society of Chemistry to ask him to co-write a new school chemistry textbook. Now pupils studying A-level chemistry are doing experiments designed in the Fat Duck, and in so doing are not only being inspired to learn chemistry, but also some useful basic cooking skills.
Heston is still a regular visitor to science laboratories across the country interacting and collaborating with physicists, chemists, psychologists and on occasion dentists. He now even has his own research laboratory at the Fat Duck with a small team of dedicated researchers. Everything he learns from the physics of gelation to the psychology of flavour he applies in his cooking, making ever more interesting and exciting dishes to entice his customers.
Today, Heston is consistently said to be one of the world's finest chefs. His restaurant, the Fat Duck in Bray, was voted in 2005 by other top chefs to be the best in the world. A great chef, has led him, albeit unintentionally, to become an excellent applied scientist, and one whose influence is now encouraging youngsters to take up the sciences in school.