View all news
Volunteers needed for prostate study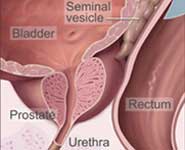 12 February 2007
Would you like to help find a new test for prostate cancer?
The Department of Clinical Sciences at South Bristol is looking for male volunteers aged between 60 and 85 years to take part in a study.
Participants should have no prior history of prostate disease and be prescribed no prostate medication. Taking part in the study will involve a 15-minute consultation with our researcher, and a blood and urine test.
If you are interested in taking part or learning more, please email Dr Helena Burden or ring 07977 412985.