View all news
19th century voices heard thanks to 21st century technology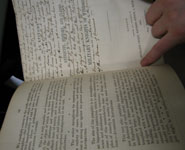 Press release issued: 2 February 2007
Polemical voices from the past will soon be heard alongside today's outspoken blogs thanks to a new project which aims to make political pamphlets from the 19th century available online for the first time.
19th Century Pamphlets Online will digitise around 23,000 political pamphlets held in research libraries across the UK, including Bristol University Library.
The project, led by the University of Southampton, is part of an ongoing programme to digitise major historical resources of national importance. It was one of 16 projects nationwide to bid successfully this week to the Joint Information Systems Committee (JISC) for part of a £12m investment provided by the Higher Education Funding Councils for England and Wales (HEFCE and HEFCW).
19th Century Pamphlets Online, which received almost £780,000, will provide access to some of the most significant collections of 19th century pamphlets in the UK. The project will scan more than 1 million pages from around 23,000 paper pamphlets which focus on the political, economic and social issues that fuelled the great Parliamentary debates and controversies of the 19th century. This will provide researchers, students and teachers with an immensely rich and coherent body of primary sources with which to study the socio-political and economic landscape of 19th century Britain.
Project Manager, Grant Young of Bristol University's Information Services said: "Pamphlets played an important role within the great debates of the 19th century and are a valuable but underused resource. This is largely due to their scarcity and a lack of awareness among the research community.
"Exposing this material to a wider audience is of particular value as the pamphlets' interest lies not only in their content but in the format itself. Understanding why they were produced adds an extra dimension to the study of a fascinating period."
Dr Peter King, Director of Library Services said: "The University Library possesses one of the great resources of ephemera for modern history, a collection which stands as a unique record of English society and thought in the nineteenth century. This project will open it up to a worldwide audience."
Users will be able to view the digitised pamphlets alongside journals from JSTOR (a scholarly journal archiving service) or via the Google Scholar search service and other public search engines. JSTOR has established a web crawler which will allow search engines such as Google to index the full text of the pamphlets, enabling voices from the past to be discovered alongside today's blogs.
Project partners: British Official Publications Collaborative Reader Information Service (BOPCRIS)/University of Southampton, University of Bristol, Consortium of Research Libraries in the British Isles (CURL), Durham University, JSTOR, University of Liverpool, London School of Economics, University of Manchester, Manchester Information and Association Services (MIMAS), University of Newcastle, University College, London.
Some of The National Liberal Club pamphlets housed in Bristol University's Special Collections will be digitised as part of the 19th Century Pamphlets Online project. They have been with the University Library since 1977 when the Club, in London, was facing financial difficulties and wanted to sell off its library. The collection ranges in date from the late 18th century to the mid 1970s, but is especially strong on 19th century commerce, economics, finance, politics, religion and sociology.