View all news
Mary Christine Moore (née Davis), 1925-2006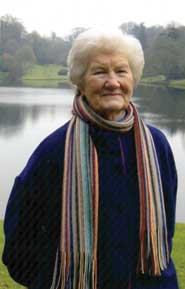 13 December 2006
The University and members of Convocation were shocked to learn of the death of Mary Moore on 2 December 2006, aged 80, six days after attending a Convocation Awards' sub-committee meeting. Her involvement with the University spanned almost 60 years.
Born on 9 December 1925, Mary Davis, as she then was, spent two years between 1943 and 1945 with the WRNS, working at Bletchley Park as one of the Enigma team intercepting and decoding German messages. In October 1947 she came to the University of Bristol to read for a Testamur in Social Studies, which she gained in 1949. While here she played in the University's first lacrosse team, met her future husband, who was resident in Wills Hall, and resided in Manor Hall, to which she developed a deep attachment.
In 1949 she took the Diploma of the Institute of Almoners and held the post of Almoner at the Mid-Hertfordshire Hospital at St Albans until she was married. After a period between 1971 and 1977 as the Almoner attached to the Orthopaedic Department of Dumfries and Galloway Hospital, she and her husband retired to Wincanton where they were able to follow their interest in equestrian sports. Between 1978 and 1985 she was President of Charlton Musgrove WI in Somerset and served as a governor of King Alfred School Wincanton, a comprehensive school serving a large rural area, between 1980 and 1990.

Mary Moore was a member of the Manor Hall Old Students' Association from 1949 onwards and played an active part in its activities and reunions, serving as its Chairman and a member of the Manor Hall committee between 1996 and 2006. She regularly attended hall committee meetings, plays and musicals and earlier this year took an important part in obtaining two paintings for the hall painted by Warren Storey, formerly Vice President of the Royal West of England Academy.
She was elected to the Standing Committee of Convocation in 1996 and together with Mrs H M Willoughby organised the reunion of the graduates of 1949 in 1999 which was held in Manor Hall. Following a change in the University's regulation she was the first member of Convocation to sit on the Court of the University who was not a graduate (2002). Her late husband was an active member of the Wills Hall Association and Mrs Moore's involvement with the Association continued after his death and she regularly attended their reunions.
She was a committed churchwoman. Her interests included music, fine arts (she served on the committee of the mid-Somerset National Association of Decorative & Fine Arts Societies), the English Speaking Union, travel, reading and canvas work. She was devoted to her three children and grandchildren and one of her proudest moments was when her grandson, a former resident of Wills Hall, graduated from the University in the summer degree congregations of 2006. She had a gift for laughter, was known for her charm, her great personal kindness and her friendship. She will be greatly missed by her family and her wide circle of friends.
M J Crossley Evans