View all news
Bristol bags best business idea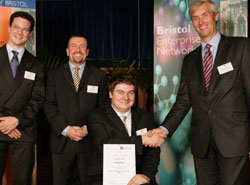 12 December 2006
The winner of the University's 2006 New Enterprise Competition has come top in a three-way contest with the Universities of Bath and the West of England to decide which of their award-winning business ideas most deserves the title of Winner of Winners 2006.
SensaGest Ltd won the top prize of £10,000 for best business idea with its unique state-of-the-art nurse call system that can be operated by people with minimal hand movement. The device will be connected to a small wearable computer which will be programmable to enable easier communication and control over other devices situated near the beside.
The competition was hosted by the University of Bath and sponsored by Knowledge West, a consortium of six local universities.
Ian Anderson, postgraduate in the University's Department of Computer Science and Managing Director of the winning SensaGest Ltd team, said: "We are delighted with the prize, which will enable us to accelerate the progress of our idea. Clinical trails will start in December at the Midland Centre for Spinal Cord Injuries prior to the launch of the hospital and home products in March."
The three universities that took part in the competition all run individual business ideas competitions to encourage a spirit of enterprise among their students, alumni and staff. The Winner of Winners competition, now in its third year, celebrates the enterprise activities undertaken by universities in the region, and encourages collaboration between them.
The University of Bristol recently launched its New Enterprise Competition for 2007. Guest speakers at the launch included Mike Bennett, CEO of e3media, Juicy Juicy and more recently Goldbrick House (also a member of the University's Enterprise Roll of Honour). Bennett studied at the University, achieving a BSc in Politics and Sociology in 1997, and set up e3media with business partner Stuart Avery before he graduated. Today the internet and digital agency enjoys great success, working with the likes of Orange, BBC, French Connection, Peugeot and several major government agencies.

Dr Neil Bradshaw, Director of Enterprise at the University, who opened the launch, commented: "The previous years' entries have been outstanding and we are proud of the standard that the New Enterprise Competition has reached. We are looking forward to seeing high levels of staff, students and alumni entering the 2007 competition."
There is a prize fund in the region of £30,000, including cash, free professional advice and managed office space to help make businesses a commercial success. The closing date for entries is 26 February 2007.
For more information, please visit www.bris.ac.uk/research/newco/competition.