View all news
University scores hit with public lecture series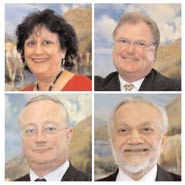 11 December 2006
A series of public lectures organised by the University as part of its contribution to the Brunel 200 celebrations has been deemed 'a resounding success'.
The lectures by Yasmin Alibhai-Brown, Sir Digby Jones and Professor Lord Bhikhu Parekh were on the theme of Immigration, Diversity and Belonging, reflecting the fact that Brunel was the son of an asylum seeker.
The other lecture, by Vice-Chancellor Professor Eric Thomas, considered what Bristol's designation by the Government as a 'Science City' might mean and asked what Brunel would have thought of it.
Series organiser Barry Taylor said: 'A number of people – some of whom attended all four events – have said that while they did not necessarily agree with all the views expressed, they really enjoyed being challenged and stimulated. The series went well.'
Andrew Kelly, Director of both Brunel 200 and the Bristol Cultural Development Partnership, said: 'The lectures were a resounding success and a strong contribution to Brunel 200. The University is to be congratulated on opening its doors to the public for occasions such as this and encouraging debate.'