View all news
New centre of excellence on site of former children's hospital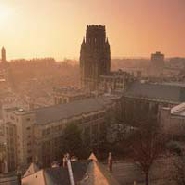 Press release issued: 10 November 2005
The University has set aside £35 million for the creation of a new building to house the School of Biological Sciences.
The University of Bristol has committed £35 million for the creation of a new building to house the School of Biological Sciences.
The new complex will provide state-of-the-art facilities for all of its research and teaching activities.
Housed in a landmark building on the site of the old children's hospital on St Michael's Hill, the objective is to establish the School as an international centre of excellence.
Professor Paul Hayes, Head of the School, said:"Realisation of this objective will generate tremendous academic and financial returns for the University.
"We will act as a magnet for exceptional talent from around the world."
Research in the School is currently restricted by the constraints imposed by the present building.
Release of these constraints through the provision of a state-of-the-art building will allow the School to realise its full potential.
The wide diversity of research carried on in the School includes
* Understanding the behaviour of animals - research in the Bat Lab, for example, looks at the ecology, behaviour and conservation biology of bats;
* The biology of individuals, populations and communities - for example, the effects of land-use change on species success and diversity, wildlife conservation, and environmental and biological control;
* Cell and molecular biology which supports world-class molecular-based research aimed at understanding the whole organism - be it plant, animal or microbe.
Professor Bill Boyd, Dean of the Science Faculty, said: "We are unusual among the leading biology departments in that we have maintained strengths at all levels of biological science - from molecules to ecosystems.
"This means we are extremely well placed to become one of the premier departments in the world."
The development will be a major element within a wider programme of investment by the University over the next five years aimed at consolidating its position among the leaders in higher education.
Work is expected to start in 2007 and the new building is due to be completed in 2009.