View all news
Pioneering department celebrates a quarter of a century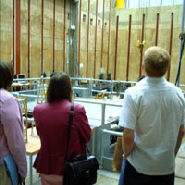 Press release issued: 14 July 2005
Computer dating and Lego robots were in evidence at a celebration to mark the 25th anniversary of Engineering Mathematics at the university
Computer dating and Lego robots were in evidence at a celebration to mark the 25th anniversary of Engineering Mathematics at the university.
No other university in the UK teaches Engineering Mathematics as a single discipline. Yet it thrives at Bristol in both teaching and research.
This week the 25th cohort of students received their degrees, although the department's history actually stretches back more than 50 years and started out as the Department of Theoretical Mechanics.
Earlier this month a series of events was staged to mark the anniversary with graduates from throughout the degree's history present, including a strong contingent from the earliest years.
Guests were given a tour of the university's BLADE engineering test facility - the most advanced of its type in Europe - as well as hearing about plans for future development of the campus.
They were also shown the latest teaching techniques including a computerised algebra solver and how Lego robots are used to teach design.
There were numerous displays of old photographs and even a film from the 1970s to promote the course using the subject of computer dating.
Guests were then invited to a dinner in Wills Memorial Building with the after dinner speech from a distinguished graduate - Admiral Nigel Guild.
Head of Engineering Mathematics, Prof Alan Champneys, said many who attended had expressed their thanks to the department for hosting such a fun event.
He said: "Many stated what a great pleasure it was to see not only old friends but also to see how the university and the department in particular is flourishing."