View all news
Honorary degrees awarded at Bristol University today [July 13]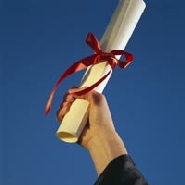 Press release issued: 13 July 2005
Bristol University is awarding Honorary degrees to two prominent people at today's degree ceremonies in the Wills Memorial Building.
Mr Moger Woolley, Chairman of University Council since 1997, will be honoured with the degree of Doctor of Laws at the 11.15 am ceremony.
Moger was born in Somerset and educated at Taunton School, after winning a scholarship. Following this, he spent a short spell doing national service with the Army in Famagusta, Cyprus and on his return, came to Bristol University to read Physics, graduating in 1959.
After graduating, Moger joined ES&A Robinson in Bristol as a worker in the laboratory, quickly progressing to managerial ranks. In 1966 the company merged with John Dickinson, creating DRG, a company that was once a FTSE 100 company. It was also at its peak a top world 500 company employing nearly 30,000 people with a turnover of £1 billion (about £2.5 billion in today's money) operating 167 business units in 22 countries. Its business covered engineering, packaging, stationery, papermaking and sealants.
In 1979 Moger was appointed to the Board of DRG and then made Chief Executive in 1985. Under his leadership, the company moved from a slow moving, largely lowtech manufacturing company to a fast moving, high tech manufacturing company. However, DRG was eventually taken over allowing Moger to embark on his second career.
Since then, Moger has been Non-Executive Director and Chair of eight businesses and a hospital trust. He is a Deputy Lieutenant of Gloucestershire, has been High Sheriff of Gloucestershire and Master of the Merchant Venturers. He is a governor of Colston's Collegiate School and was recently, Chair of BRACE, the local charity for research into Alzheimer's and Care of the Elderly.
He has been a member of Bristol University's Council, its governing body, since 1987 and Chairman since 1997 and is the first Bristol graduate to ever hold the post. This role is comparable to Chairmanship of the Board of a large company, the University is now the largest company in this city with over 5500 employees.
Sir Derek Higgs, leading businessman and Pro-Chancellor of Bristol University since 2003, will be honoured with the degree of Doctor of Laws at the 2.30 pm ceremony.
Sir Derek was born in Coventry. He graduated in 1966 from Bristol University with a Bachelor of Arts degree and qualified as a Chartered Accountant with Price Waterhouse & Co before moving in 1969 into merchant banking as a corporate finance executive with the Baring Brothers.
In 1972 he joined the bank SG Warburg & Co Ltd, eventually becoming its Chairman until he left in 1996. He still acts as a senior adviser to UBS the Swiss investment bank that acquired Warburgs in 1995.
For five years Sir Derek was a Director of Prudential plc and Chairman of its fund management business until he retired from the Board at the end of 2000.
Sir Derek was Chairman of Business in the Environment between 1999 and 2004 and a member of the Government's Advisory Committee on Business and the Environment between 1993 and 1999. He was appointed by the Chancellor of the Exchequer and the Secretary of State for Trade and Industry in June 2002 to undertake an independent review of the role and effectiveness of independent company directors. The report was published in January 2003.
Sir Derek was Deputy Chairman of the City of London Festival from 1995 to 2001, playing a key role in arranging annual celebrations of the history of the City of London, its music, art and architecture and also Director of Coventry City Football Club.
Sir Derek is also one of the trustees of the Alan Higgs Charity, a charitable foundation set up by his late father. The charity has an income of £6 million, helping make an enormous difference to the lives of many people in the Coventry area.