View all news
Honorary Degrees awarded at Bristol University today [July 12]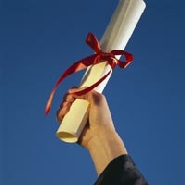 Press release issued: 12 July 2005
Bristol University is awarding Honorary degrees to two prominent people at today's degree ceremonies in the Wills Memorial Building.
Mr John Savage, Executive Chairman, Bristol West, will be honoured with the degree of Doctor of Laws at the 11.15 am ceremony.
John was educated at St Olave's and St Saviour's Grammar School, London, and spent the first sixteen years of his career in general management for the food production industry. A career change led to him running his own international distribution company for the next five years, and he later joined the ANG [Associated Newspaper Group] in a specialist consultancy role for a number of its subsidiary companies.
In was in this latter role that John progressed to Managing Director of six ANG businesses, adding to his broad range of business experience which now included manufacturing processes, gravure and flexography printing, heavy goods vehicle engineering and operations, port and rail terminal operations, public service vehicle operation, engineering manufacturing, motion picture production, property development, stone masonry and large-scale catering.
Since 1989, John has been Chief Executive of The Bristol Initiative and, from February 1993, Chief Executive of the Bristol Chamber of Commerce and Initiative after the merger of those two bodies. Most recently the Bristol, Gloucestershire and Bath Chambers of Commerce have merged with Business Link West to form Business West. John now leads an organisation dedicated to promoting partnership between local government, industry and commerce.
As well as his role at Business West John has many other related roles on a number of other companies and charitable organisations. These include: Chairman, West of England Learning and Skills Council; Chairman, West of England Learning Consortium; Chairman, Bristol 14 to 19 Education Campus; Board Member, Bristol Education Partnership Board; Treasurer, Christchurch Pre School Group; Chief Executive, West of England Strategic Partnership; Chairman, Future West; Joint Chairman, Broadmead Board Limited; Joint Chairman, Bristol Tourism and Conference Bureau; Chairman, Bristol Harbourside Sponsors Group; Board Member, Business Link West; Board Member, Bristol Cultural Development Partnership Limited; Former Trustee, Bristol Old Vic; Board Member, West of England Connexions; Financial Director, Enuresis Resource & Information Centre; Company Secretary, Bristol Community Sport Limited; Patron, South Bristol Community Construction Company; Patron and Vice-President, Bristol Choral Society; Patron, Bristol City Football Club Study Support Centre.
Mr Nigel Wray, businessman, entrepreneur, investor and establisher of the Priory Foundation, will be honoured with the degree of Doctor of Laws at the 2.30 pm ceremony.
Nigel was born in London in 1948 and educated at Mill Hill School, London. Having graduated from Bristol University with a 2:1 degree in Economics, Nigel's first job was with the merchant bank, Singer and Friedlander. Responsible for launching the bank onto the stock market twenty years later, his career progressed from graduate trainee to major shareholder.
One of his best known business interests was the relaunch of a 'city' journal, the Fleet Street Letter, which he transformed from what was described as a 'sleepy diplomatic read' with a bit of business on the back to the first British private subscriber investment newsletter. As well as carrying out all the research, Nigel wrote it, printed it, marketed it and turned it into a hugely successful publication. A spin-off was the Penny Share Guide.
Nigel's involvement in many different kinds of business developments, such as the Trocadero entertainment centre on London's Piccadilly, and his acquisition of Saracens Rugby Club along with his keen interest in the property market led to him become a director of over 50 companies.
Nigel's giving and kindness have assisted countless people, including many of those with whom he has worked over the years. Other beneficiaries have been the organisations, institutions and worthwhile causes that he admires. Among these is Bristol University. Nigel's support for University sport has enabled Bristol to establish a high performance programme, through which Bristol can provide top-class athletes with the coaching and other resources they need. Nigel has also provided necessary funding for the rugby club and the boat club by initiating rowing scholarships.
Nigel supports many charities connected with sport, such as the Lord's Taverners, the Saracens Foundation, which enhances the lives of needy young children through sport and education, and the Cricket Federation for People with Disabilities.