View all news
Honorary degrees awarded at Bristol University today [July 11]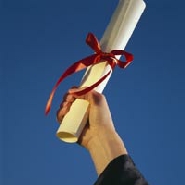 Press release issued: 11 July 2005
Bristol University is awarding Honorary degrees to two prominent people at today's degree ceremonies in the Wills Memorial Building.
Dr Stephen Pilkington, CBE, former Chief Constable of Avon and Somerset Police, will be honoured with the degree of Doctor of Laws at the 11.15 am ceremony.
Stephen was born in Hampshire. He graduated from Queen Elizabeth College, London with a first degree in Biology, followed by a doctorate. He then joined Battersea police force as a police constable where he started his career with the police force spanning more than 25 years.
After four years at Battersea, Stephen passed his sergeant exams and his Accelerated Promotion Course. From here he went to Croydon police station, later being seconded for six months to the Police Executive Research Forum in Washington DC.
Stephen progressed to become Superintendent followed by Commander for the Central London Police and was later awarded the prestigious QPM [Queen's Police Medal] for his work as Deputy Assistant Commissioner.
In 1998 Stephen was appointed Chief Constable of Avon and Somerset Police, a force that has one of the best forensic teams in the country, a budget of £220 million, 5,000 staff, 900 vehicles and 60 to 70 premises.
Stephen's understanding of inner-city issues helped him to fight against crime and he was always actively engaged with local communities to help resolve ongoing issues. Since 1991, Stephen has helped handicapped children through the Pilgrimage Trust by volunteering his time to help take between three and five thousand children to Lourdes at Easter. Stephen also cycled between every one of his police stations in the week before Christmas, raising £66,000 for the Children's Hospice South West.
Sir John Bond, Group Chairman, HSBC Holdings, plc and Chairman of HSBC Bank, will be honoured with the degree of Doctor of Laws at the 2.30 pm ceremony.
Sir John is one of the most influential and distinguished bankers of his generation whose leadership has helped make HSBC one of the most efficient, profitable and best-performing banks in the world.
Sir John was born in Oxford and educated at Tonbridge School in Kent. He won an English Speaking Union Scholarship to Cate School in California where he completed his secondary education. He later ended up in Hong Kong after finding work on a cargo ship and not long after started work aged 19, with what was then the Hong Kong and Shanghai Banking Corporation. It was here that he completed his Institute of Banking Examinations, gaining the second highest marks of his year and in the world.
After completing his exams Sir John quickly progressed from a trainee to the top of one of the most powerful companies in the world, travelling and working in Hong Kong, Thailand, Indonesia and the USA before coming back to the UK.
In 1988 he was appointed as an executive director of the bank and returned to the USA in 1991 as Chief Executive Officer of HSBC, USA. In 1993 he was appointed group executive of HSBC Holdings and took up his current role as Group Chairman in 1998. He was knighted for his services to banking in 1999. In addition to being Chairman of the HSBC Banking Group, Sir John is also on the boards of Ford Motor Company and Vodafone. He has been Chairman of the Institute of International Finance and a governor of the English Speaking Union, the organisation that had such an influence on his own formative years.
He formed the HSBC Education Trust in 2001, which supports schooling for disadvantaged young people in various parts of the world, also committing the bank to numerous environmental initiatives including the use of green energy sources. He has also promoted a project with Earthwatch which involves sending 2,000 HSBC staff on scientific projects around the world. Under Sir John's chairmanship the bank has given £30 million to Investing in Nature.