View all news
Trainee teachers find birds prefer white cars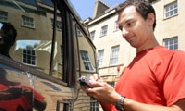 Press release issued: 28 June 2005
A group of trainee teachers from the University of Bristol found a higher evidence of bird droppings on white cars than expected
A group of trainee teachers from the University of Bristol found a higher evidence of bird droppings on white cars than was expected.
The students at the university's Graduate School of Education devised the exercise as a possible scientific study for Key Stage 3 pupils.
The students were tasked with finding activities for secondary school pupils in an out-of-school context - such as a field trip.
One of the groups decided to test a theory one of them had overheard that birds poo on blue cars more because that colour looks like the sea.
They presented the group with their suggestion and the survey was taken on because of its all round appeal.
Around 40 trainee teachers surveyed 1,760 cars in the city. The data was collated and analysed using statistical techniques appropriate to the school environment.
The students discovered white cars had more poos than expected and black coloured vehicles had less than predicted.
They found there was 60 per cent more white cars among those that were hit the most often than would have been expected.
Liam Chawdhary, the student who led the study, said: "We don't know why white cars get struck more often but it was not meant to be a serious study. It was just a bit of fun."