View all news
Archaeologists to document Caribbean shipwreck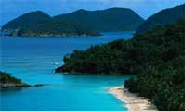 Press release issued: 16 June 2005
A team of archaeologists is heading for the British Virgin Islands this week to survey the shipwreck site of the HMS Nymph, a Royal Navy sloop of war, which sank in 1783.
A team of Bristol University archaeologists is heading for Tortola in the British Virgin Islands this week to survey the shipwreck site of the HMS Nymph, a Royal Navy sloop of war, which sank in 1783.
The survey will identify and assess the extent of the ship's structural and cultural remains and will ultimately aid future excavation of the site. The researchers will gather still photographs, video and data through acoustic positioning, a new and more accurate method of mapping shipwreck sites.
The two-week survey, scheduled for 18 June to 2 July 2005, will be conducted by a team of four archaeologists, led by Kimberly Monk of the University's Department of Archaeology and Anthropology.
The HMS Nymph was launched at Chatham Dockyard in May 1778 and served King George III's Navy as a support vessel in both the East and West Indies.
She was one of 25 vessels of the Swan class of Royal Navy ships, boasting a length of 96 feet, a beam of 26 feet, and a depth in hold of 12 feet. A 303-ton vessel with three masts, she was able to carry a complement of 125 men, 16 guns, and 14 swivel guns.
She was first commissioned under Vice Admiral Sir Edward Hughes' East India fleet in 1779. Her duties included protecting interests in Calcutta, Bombay, and Madras, and serving as an escort to East India merchant convoys.
In December 1782, HMS Nymph was recommissioned to the West Indies, under Admiral Hugh Pigot and Rear Admiral Sir Richard Hughes, Lesser Antilles squadron. Her role was to protect English interests and island inhabitants from French and American privateers.
Her Caribbean adventures, however, ended abruptly. A fire aboard, owing to the carelessness of the Purser's steward, forced crew to abandon ship, and the Nymph to founder in Road Town Harbour in June 1783.
In February 1969, dredging in Road Town Harbour revealed the remains of the Nymph. Artifacts were removed but no archaeological survey or site excavation conducted. Over 300 artifacts were conserved (but have since been lost by curators of the collection). The University team holds a photographic archive of these artifacts which range from galley wares to ordnance.
Ms Kimberly Monk, maritime archaeologist and Principal Investigator, HMS Nymph Project, said: "The British Virgin Islands house a unique cultural history both above and below the surrounding waters. Many archaeological sites require years of detective work before identifying remains and their provenience in history. As a result, shipwreck sites such as HMS Nymph are a phenomenal opportunity: a time capsule of material that will allow us to expand on existing knowledge in the areas of colonialism, naval warfare, and 18th century society.
"HMS
Nymph
is of national historic importance to both Britain and the British Virgin Islands. As a pawn of British imperialism, Nymph contributed to securing British territory ultimately paving the way for Nelson's Navy and its global success."