View all news
Sleeping time and obesity in children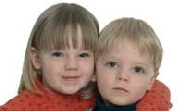 Press release issued: 20 May 2005
A new study has found eight aspects of early life which are linked to the size and shape of British children by the time they are aged seven, including the length of time they sleep. 
Three-year-old children who spend more than eight hours watching television each week are at an increased risk of obesity as they grow up.
The toddlers' TV habit is just one of eight aspects of early life which have been found to be linked to the size and shape of British children by the time they are aged seven.
Surprisingly – children who spent more time sleeping were less likely to be obese.
The results, based on research by the Bristol University's Children of the 90s study suggest that one way to tackle the nation's obesity epidemic might be to change lifestyles during early childhood. Their report is published online by the BMJ today.
Of the 7,758 children whose height and weight were assessed, and Body Mass Index calculated, 9.2 per cent of the boys and 8.1 per cent of the girls were classified as obese at the age of seven.
The researchers found eight different risk factors including:
Higher birth weight
Parental obesity (one or both parents)
More than eight hours spent watching television per week at age 3 years
Short sleep duration (less than 10.5 hours per night at age 3 years)
Dr Andy Ness, deputy director of the Children of the 90s study says exactly why some of these things increase the risk of obesity isn't always clear.
"We know that obese parents are more likely to have obese children. That could be a genetic effect – because it runs in the family perhaps, or it could be more to do with environmental factors - their shared family lifestyle, diet and food preferences.
"More surprising perhaps is that children who sleep longer at night around the age of three have a lower risk of obesity. There could be a number of explanations for this finding. It could be that children who sleep longer are more active and so are physically tired. Or it could be that the ones who don't go to bed early are staying up doing sedentary things instead like watching TV, and consuming food so they are not only less active, but eating more.
"There is also evidence that modest sleep deprivation affects the hormone balance, and we are going to do more work on this to explore how sleep is related to obesity in older children."
The researchers also identified a connection with various measures of size and rapid early weight gain.
The report says: "Our study provides evidence of the role of the early life environment in the later risk of obesity. Prevention strategies for childhood obesity to date have usually been unsuccessful and typically focus on change in lifestyle during childhood or adolescence.
"Future interventions might focus on environmental changes targeted at relatively short periods in early life, attempting to modify factors during pregnancy, in infancy, or in early childhood, which are independently related to later risk of obesity."
Early life risk factors for obesity in childhood: cohort study. John J Reilly, Julie Armstrong, Ahmad R Dorosty, Pauline M Emmett, A Ness, I Rogers, Colin Steer, Andrea Sherriff The British Medical Journal