View all news
Designing your future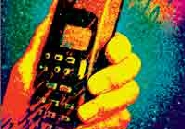 9 November 2005
Last year Professor Joe McGeehan was voted sixth in the world in a list of top 10 technologists.
Last year Joe McGeehan was voted sixth in the world in a list of top 10 technologists, compiled for the leading online IT magazine silicon.com - the voice of California's Silicon Valley. Bill Gates was second to Linus Torvalds - he designed the Linux operating system - at number one. One of the panelists said of McGeehan: "Working five to 10 years ahead of the industry, McGeehan is noted for advancements on mobile radio and speeding up the underlying transport layer for wireless networks to provide high-quality audio, video and data services. His work is really going to change how people look at mobility [in communications]."
It all started back in 1980 when McGeehan was a young academic working in the field of wireless communication. He was approached by the head of Securicor who asked him to design a new portable mobile radio for the drivers of his delivery fleet. Furthermore, the radio had to be highly competitive with other products then available. McGeehan's design was subsequently manufactured for Securicor by the Finnish firm Mobira-Oy (now Nokia) and this radio became the basis for Nokia's first mobile phone. Since then, McGeehan has pioneered many of the technologies adopted by industry for subsequent generations of mobile phones, as well as other areas of wireless communication.
It will facilitate 'anytime, anywhere, anyhow, anything' communications
Over the coming decade, evolution of the wireless internet will impact on society in ways we can hardly imagine. It will facilitate 'anytime, anywhere, anyhow, anything' communications. Imagine going online via your mobile phone as you eat your breakfast in the morning. You remain connected as you make your way to work, by car, public transport or on foot, and you are still online when you reach your desk. This requires high-performance, pervasive network coverage which, in turn, requires detailed network planning. This is especially the case in built-up areas, where the urban landscape creates significant challenges for the network planner.
One vital approach to network planning is 'ray tracing'. By building detailed models of the landscape, ray tracing can provide comprehensive predictions of how wireless and mobile networks will perform in the field. This information is valid for single or multiple base stations, and for internal or external networks. Such models are highly complex and computationally intensive, even for moderately complex geographic environments. However, the CCR is currently leading the world in this field through its years of research into ray-tracing tools.
As a means of enhancing the efficiency of wireless links, the use of multi-element antenna arrays, or 'smart antennas', is now regarded as a key enabling technology for future wireless networks. The CCR's Wireless Group has conducted performance analysis and hardware verification of smart antennas and has been a major contributor to the adoption of this technology in numerous wireless access networks across the globe.
Often thought of as the brains behind the revolution in wireless communications, McGeehan is unusual in that he effortlessly straddles the public and private sectors. As well as being Professor of Communications Engineering and Director of the CCR at the University, he is Managing Director for Toshiba Research Europe Ltd's Telecommunications Research Laboratory. Toshiba is a vast multi-national corporation able to invest anywhere in the world. It is therefore a tribute to the region's telecoms and academic communities, and to Joe McGeehan's spirit and determination, that they chose to base their European telecommunications research centre here in Bristol.
Joe McGeehan/Centre for communications research