View all news
Setting the standard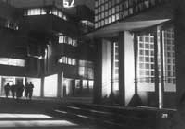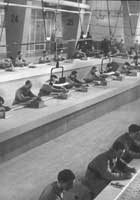 10 June 2005
Film set designers in European Cinema in the 1930s are the focus of an AHRB-funded project by Professor Sarah Street of the Department of Drama: Theatre, Film, Television. 
Following extensive research in archives in Paris, London and at the Harry Ransom Humanities Research Centre in Austin, Texas, this project analysed the practices, styles and function of cinematic production design, an area in which the period set standards which were to influence filmmaking to this day.
A book, 'Film Architecture and the Transnational Imagination: Set Design in 1930s European Cinema' (University of Amsterdam Press, forthcoming) is currently being produced in collaboration with researchers from the University of Southampton and Queen Mary, University of London.
Rather than studying individual national cinemas in isolation, the book emphasises the permeability and mutual influences in design between European film cultures. In particular, we stress the close interaction between key companies and studios in Paris, London and Berlin, and the transnational mobility of key artistic figures, including Lazare Meerson, Alfred Junge and Vincent Korda, from the late 1920s to the outbreak of World War II.
Major European film studios functioned as artistic communities
Our contention is that during this period the major European film studios functioned as artistic communities, and that their specificity (historical and aesthetic) lies in the unique professional composition of these communities.
One of the most important characteristics was that they provided working opportunities for émigré artists, architects and designers from Russia and Eastern/Central Europe. Our study examines how these artists, in a creative partnership with film directors and cinematographers, absorbed contemporary ideas and practices in the visual and decorative arts, and in architecture and urban design, and reworked and disseminated these visions to a wider public. We aim, in so doing, to propose a new, 'transnational' understanding of European cinema in the 1930s as well as shedding light on a key area of expertise that has tended to be overshadowed by studies that privilege the film director.
Professor Sarah Street/Department of Drama: Theatre, Film, Television