View all news
Literary sleuthing sheds new light on mystery of poet's death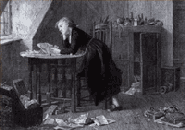 Press release issued: 25 August 2004
A Bristol University academic has turned sleuth in an attempt to solve the mystery surrounding the death of the Bristol-born Romantic poet, Thomas Chatterton.
A Bristol University academic has turned sleuth in an attempt to solve the mystery surrounding the death of the Bristol-born Romantic poet, Thomas Chatterton (1752-1770).
Chatterton died in a London garret on the night of 24/25 August 1770. The cause of his death was established as arsenic poisoning and the inquest declared he had committed suicide in a fit of madness. Thus was born the popular and enduring image of Chatterton as a neglected genius who took his own life at a young age.
Recently, however, new research has begun to challenge the belief that Chatterton committed suicide, driven by despair at his poverty and bitterness at his failure to get published.
Dr Nick Groom of the Department of English at Bristol has examined, for the first time, all the evidence relating to the poet's death and reached the conclusion that the overdose of poison that killed Chatterton was accidental.
Like a modern day detective, Dr Groom investigated the poet's own writings, contemporary accounts of his personality and state of mind, his financial situation, rumours about his private life and the two fake suicide notes discovered in the years following his death.
He reached the conclusion that, far from being a poverty-stricken poet struggling for recognition, Chatterton was earning decent sums of money at the time of his death and successfully publishing his poems in a number of different journals – not a situation that might lead someone to commit suicide in despair.
He also found evidence that the arsenic which killed Chatterton might actually have been purchased by the poet in a bid to cure a sexually transmitted disease. As the poet was also taking opium, he may thus have either created a lethal cocktail or simply misjudged the dosage.
Dr Groom said: "Reports of Chatterton's madness by Robert Southey and other Romantic poets were gradually exaggerated in the years after his death. While the case for suicide was briefly 'proved' by, for instance, the discovery of suicide verses (since exposed as spurious), as well as being driven by the juggernaut of Romantic mythography, the case for accidental death has only ever had the facts to go on. These facts tell a very different story of the death of Thomas Chatterton."
Dr Groom's research will appear in a collection of recent critical work on the poet, From Gothic to Romantic: Thomas Chatterton's Bristol, published by the Redcliffe Press later this year. (Redcliffe Press: 0117-973-7207)
Thomas Chatterton was born in Bristol on 20 November 1752 and grew up in the shadow of St Mary Redcliffe. Inspired by the church, he wrote poems in a mock-medieval style, ascribing many to 'Thomas Rowley', supposedly a fifteenth-century monk. By his mid-teens he had completed most of his 'Rowley' cycle of poems and prose, and had convinced a number of his fellow-citizens that these were genuine medieval works.
After leaving Bristol for London in April 1770, Chatterton began to establish himself as a professional writer, publishing in many journals and in all manner of styles. His premature death a few months later at the age of seventeen, however, was to seal his image as the archetypal neglected genius of Romantic poetry, more famous for committing suicide than for anything he wrote.