View all news
FIELD: a fusion of art, science and nature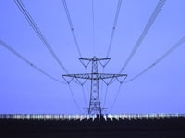 Press release issued: 17 February 2004
A strange sight will be spontaneously lighting up in a field outside of Bristol until Saturday, March 6.
A strange sight will be spontaneously lighting up in a field outside of Bristol during February.
FIELD
is a major undertaking by Richard Box, artist in residence in the
Department of Physics
at Bristol University. The exhibition, which is on display
until Saturday, March 6
, features several thousand ready-made glass fluorescent tubes that flicker into life across the hillside as the early evening light fades.
The bulbs are 'planted' across the site at the foot of an electricity pylon, and pick up the waste emission from the overhead power line. The performance each evening is hard to anticipate since it is heavily dependent on the weather. In all the best traditions of land art, it is conditional on the variations of the great outdoors and requires its audience to be patient.
Professor Denis Henshaw, whose study of the health effects of close proximity to power lines is internationally recognised, commenting on FIELD, said: 'It's very creative and it illustrates graphically that power lines do indeed have these electrical fields around them. Even when bulbs are on the way out, and start flashing or flickering in their sockets, they still light up under the power lines.'
There's an interactive element to all this, too, for those who go to the site itself. 'You affect the lights by your proximity', explains Richard Box, 'because you're a much better conductor than a glass tube. And there's sound as well as light - a crackling that corresponds to the flashing of the lights. There's a certain smell too, and your hair stands slightly on end.'
The exhibition is on until Saturday, March 6 from 5 to 8 pm.
Members of the public wishing to see FIELD are requested to arrive before sunset, wear outdoor clothing and footwear and bring a torch for the way home.
To get to FIELD at junction 18 of the M4 take the A46 towards Bath. The car park is 300 yards on your right. From the car park it is a 10-minute walk west and then south along the Cotswold Way. Directions will be signposted.
Richard Box was awarded a Leverhulme Grant in 2002 to become the Department of Physics' third artist in residence.