Working abroad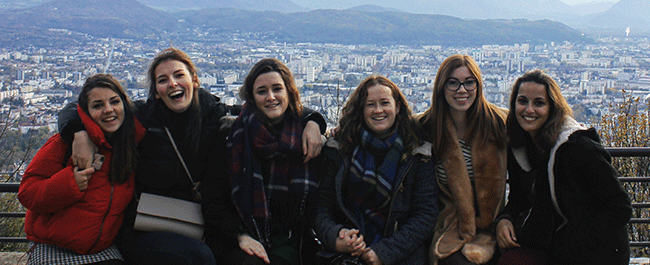 Working overseas is a great way to boost your employability and gain valuable international experience.
This page provides information on working as part of your year abroad.
Who can go
You can apply to work abroad for a year if you are:
a Modern Languages student
undertaking a course which includes a Year in Industry
undertaking a course which includes a Year with Industiral Experience
If you are not able to do a year abroad, you could still spend some time working or doing an internship overseas during the University holidays. We work with several partner organisations who offer placements abroad during the summer holidays. Find out more here.
Make it happen
Find out how to secure a work placement as part of your year abroad.
Finding a placement
Finding a placement is your responsibility, but the university can offer support.
If you are a Modern Languages student, your Language Director will be able to help and advise you on finding a work placement.
If you on a programme with a Year in Industry or Year with Industrial Experience, speak to your placement coordinator for support in finding a placement.
Our Careers Service provides help and advice on finding work abroad. Discover more about the exciting work and study opportunities outside the UK.
Funding
If you are applying for a placement:
within the EU - for placements in 2020/2021, you should be able to participate in the Erasmus+ programme which provides grant funding to help with the costs of your year abroad.
For placements from 2021/2022 onwards, Erasmus+ funding is not confirmed as this is subject to confirmation following the UK's exit from the European Union. Check the University's Brexit information pages for the latest information.
outside the EU - be aware that there is no additional funding automatically available and this will limit the amount of funding you can receive from Student Finance.
See our advice on fees, funding and budgeting.
How to apply
School of Modern Languages
Submit your placement choices to your department via Blackboard as per instructions from your Language Director in TB1 Year 2.
Your Language Director(s) will then confirm your placement(s).
In January 2021 you will be able to register your intended year abroad placement(s) with Global Opportunities via our online registration form.
Year in Industry
Generally students will need to achieve at least a 60% average in their first year to apply for industrial placements, but you need to verify the requirements with your Year in Industry or Year with Industrial Experience Coordinator.
Depending on your department, you may need to find your placement independently, or you may be able to find a position via existing research collaborations.
Once your plan to complete a placement overseas is confirmed, contact us to confirm how you should register this with our team.
Before you go
Complete the Go Abroad Guide on the Global Opportunities Blackboard which will give you lots of information on all aspects of your year abroad.
Insurance
Get adequate insurance for your placement. Normally this is the University of Bristol travel insurance, unless your job/company demands extra cover.
When you arrive
Check Blackboard for any paperwork you are required to complete.
While you are away
Changes to your placement
Contact us as soon as possible - and make sure you let your department know - about any significant changes to the nature of your job, or any problems you experience.
Shortening your work placement
You can shorten the length of your placement if your host company agrees to it, but be aware that this will have implications for your grant if you are participating in the Erasmus+ programme.
Extending your work placement
You can extend the length of your placement if your host company agrees to it.
Withdraw from your work placement
If you want to withdraw from your placement, contact us as soon as possible for advice.
Keeping in contact
Keep in regular contact with your department and personal tutor while you are away.
Check your email
Check your University of Bristol email account regularly. This is the address we use to contact you.