Summer STEM research projects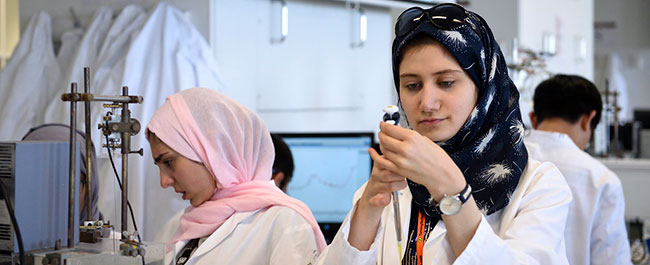 Contribute to a cutting-edge research group with a specialist project.
This programme is now closed for 2022 applications.
Programme dates
Sunday 10 July to Saturday 20 August 2022
Programme fee
£5,995
What's included

We offer a £500 discount for International Partner Universities and Study Abroad student mobility partners (email global-summer@bristol.ac.uk if you are unsure about your status).
Credits
Upon successful completion of the programme students will receive 20 academic credits, suggested as equivalent to 10 ECTS or 5–6 US semester credits.
Who it's for
A wide variety summer of research projects is offered across our STEM faculties, suiting students from a range of disciplines. This is a unique and exciting opportunity if you have ambitious postgraduate or career aspirations.
What you'll learn
This is a summer school with a difference: you'll build your own research pathway under the supportive supervision of our world-class researchers while gaining academic credit. You'll develop your teamwork, clinical and scientific inquiry, scientific referencing, and presentation skills.
Programme timetable
More information
Research projects available
Dental projects
Medical p
rojects
Psychology p
rojects
Physics p
roject

s

For more detail and links to related academic journals and references on the above projects, please email global-summer@bristol.ac.uk.
Entry requirements
You must meet all of these requirements to be eligible for this summer school:
Final application deadline

Applications are now closed.

Please contact global-summer@bristol.ac.uk for queries on last-minute applications.

Study level
Currently studying at undergraduate level, with at least two years of a three-year degree or three years of a four-year degree completed by the start of the summer
Subject requirements
Studying a subject aligned to the chosen primary research project
Academic requirements
GPA equivalent to a minimum of 60% on the UK scale, C on the ECTS scale, or 3.0 on a 4.0 GPA scale
English language requirements

If English is not your first language, you need to meet our English language Profile E.

You can view the tests and levels we accept by visting our Profile E language requirements page and selecting the 'English Language Proficiency Tests' tab. If you took the CET-4 or CET-6 tests, email global-summer@bristol.ac.uk to find out what scores we will accept.

Age
18 or over
Contact us
You can email or phone us if you have any questions about the course or your eligibility.
We provide accommodation, meals, transfers and a programme of exciting social activities. Find out more about what your time in Bristol will be like.