View all news
Transatlantic Crossings: British Feature Films in the United States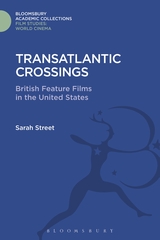 10 June 2016
By Professor Sarah Street. Published by Bloomsbury Academic
Transatlantic Crossings is a major study of the distribution and exhibition of British films in the USA. Charting the cross-cultural reception of many British films, Sarah Street draws on a wide range of sources including studio records, film posters, press books and statistics.While the power of Hollywood made it difficult for films that crossed the Atlantic, Street's research demonstrates that some strategies were more successful than others.
She considers which British films made an impact and analyzes conditions that facilitated a positive reception from critics, censors, exhibitors and audiences. Case studies include Nell Gwyn (1926), The Private Life of Henry VIII (1933), The Ghost Goes West (1935), Henry V (1946), Black Narcissus (1947), The Red Shoes (1948), Ealing comedies, The Horror of Dracula (1958), Tom Jones (1963), A Hard Day's Night (1964), Goldfinger (1964), The Remains of the Day (1993), Four Weddings and a Funeral (1994) and Trainspotting (1996).
Against a background of the economic history of the British and Hollywood film industries, Transatlantic Crossings considers the many fascinating questions surrounding the history of British films in the USA, their relevance to wider issues of Anglo-American relations and to notions of "Britishness" on screen.