5GUK Test Networks
Test Network at the Smart Internet Lab
Following the successful delivery of the 5GUK Testbeds and Trials Programme, Phase 0, the University of Bristol's 5G testbed has been expanded and maintained as a platform for research and innovation, delivering several UK and EU funded projects.
Our Test Network has been designed to provide a multi-tenancy cloud network infrastructure with its resources shared among various project spaces. These resources include a mix of proprietary and open-source network functions, and interfaces using multi-vendor end-to-end network solutions.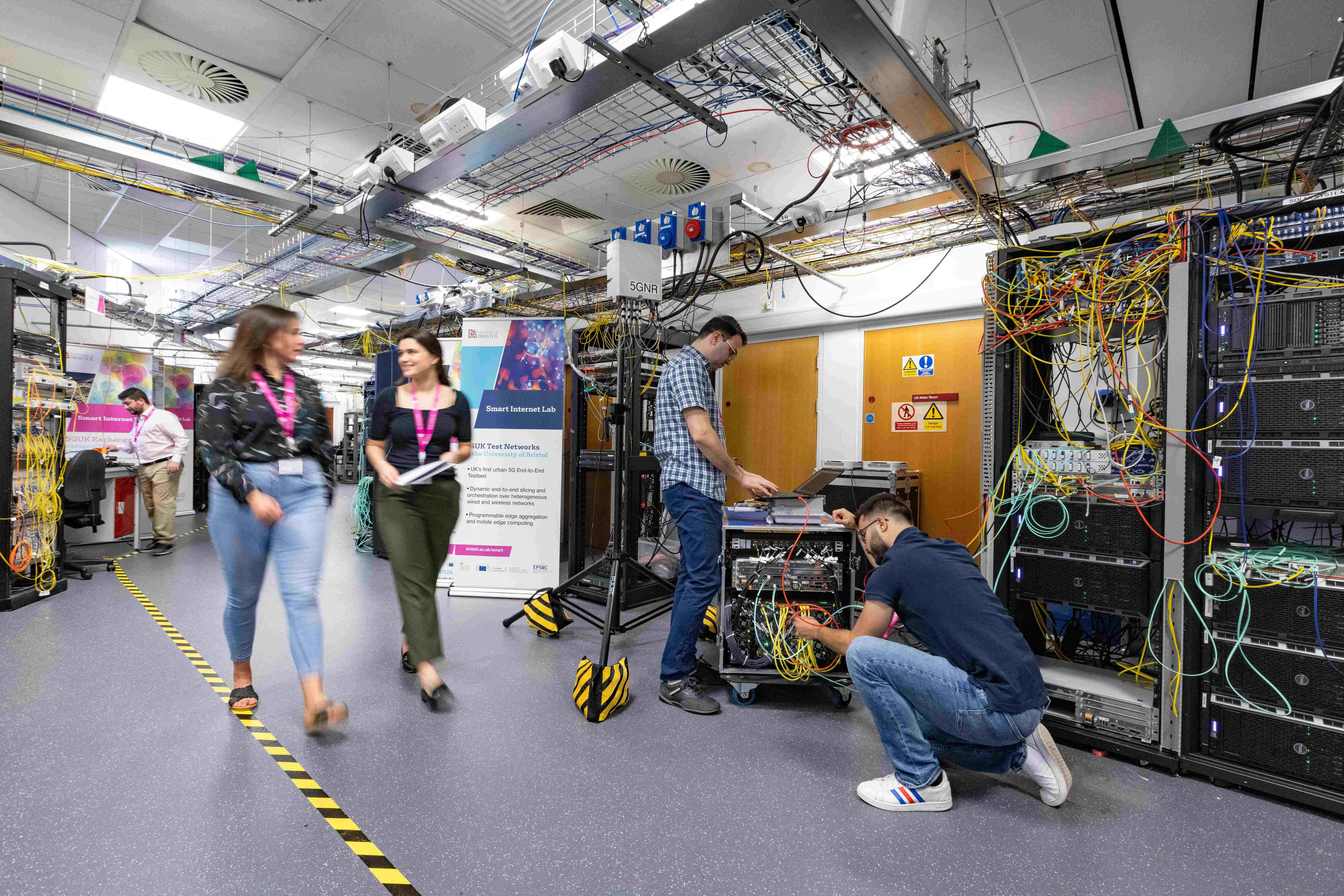 The core of our cloud network is located at the Merchant Venturers Building, University's Clifton campus with multiple edge nodes spanning across the City of Bristol. The testbed connectivity is through licensed and unlicensed spectrum for wireless connectivity along with the use of dark fibre for wired connectivity illuminated using SDN enabled switches. This testbed has its own defined user plane, control plane and management plane deploying a set of critical network functions to create project spaces, user administration and probs for data monitoring among many other features.
The Testbed facilitates research and innovation in many technologies such as:
Programmable radio network based on Open-RAN with 4G/5G/Beyond-5G air interfaces
Service based architecture using standalone 5G core network functions
Network slicing for connectivity between nodes using SDN enabled switches
Flexible allocation of compute, network connectivity and storage resources using Open-Source MANO (OSM), while the project spaces can use and explore their alternative virtualisation technologies.
Research partner's VPN access to testbed resources through a carrier grade service router
In-house developed multi-RAT CPE/Hub devices enabling services, e.g. IoT sensors or actuators connectivity with the networks, among many other innovative solutions.
Network parameter & performance monitoring from Core, Transport, and RAN functions
Research in Machine Learning (ML) techniques towards Artificial Intelligent (AI) algorithms for a defined use case under investigation
IoT devices as sensors and actuators providing a data platform for various use cases
Research in Quantum Key Distribution (QKD) using dark fibre across multiple sites
Future Networks
Smart Internet lab's research team aims to demonstrate the latest 6G enabling technologies for communications. The test network is undergoing a strategic technology refresh from 5G to the 6G narrative to drive the communication systems of the future.
Our future network research focuses on a human-centric model, bridging the physical and the digital worlds through a digital representation of the physical world around us.
The testbed capabilities will evolve to enable:
Human-centric networking through open architectures for a programable networks based on advanced digital twins
Edgeification and disaggregation of network functions facilitating the exchange of information across communication layers
Virtualisation of the infrastructure through software in convergence of the IT and telecom networks into a unified cloud network
Smart services and networks providing native resiliency and security
Zero-touch networks as an automated and autonomous network with trusted AI
Cyber Security
Sustainable network development with Net Zero goals
Quantum Internet and communications
Use-case driven innovation e.g.: logistics, manufacturing, transport, cities, advanced media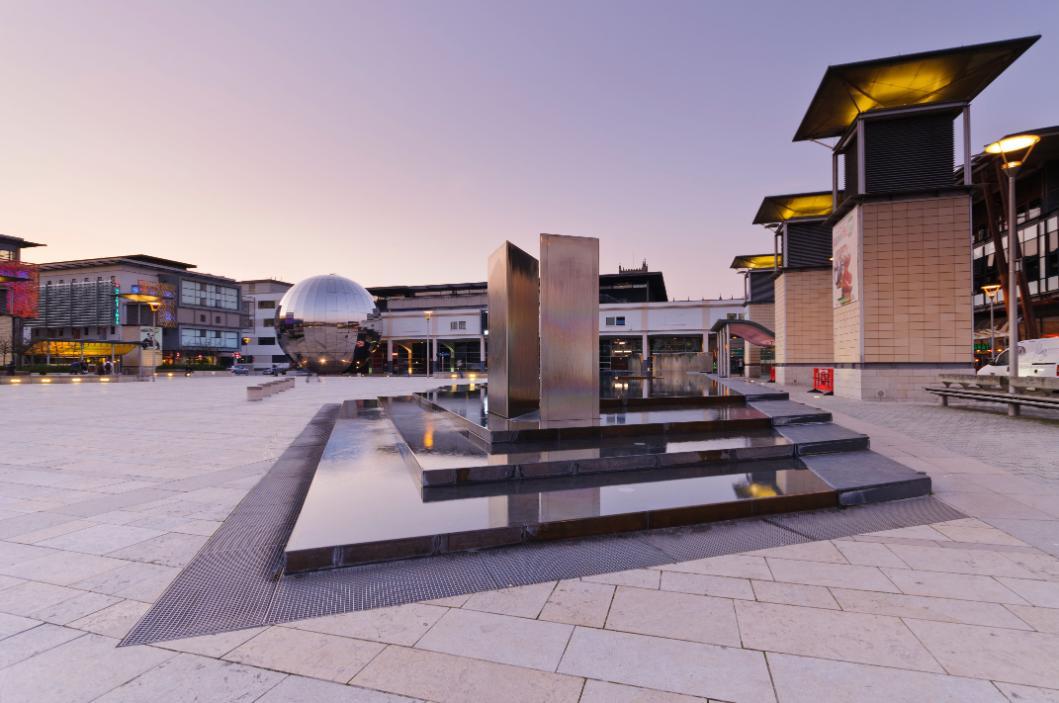 Nomadic Node
Nomadic Node (5G-NN) is a standalone network entity, our portable 5G in a box solution with capability to create multiple access cell coverage areas (4G/5G/WiFi) for enhanced mobile broadband applications and services, improved broadband and IoT platform connectivity and ultra-low latency configurations for blind spot coverage.
This solution provides rapid development of the sub-systems within an Open RAN and Open Core networks architecture, including support for:
network functions
Multi-access Edge Computing (MEC) applications
orchestration and network data platform for machine learning
further artificial intelligent development activities
disaggregated 4G/5G Core
flexible backhaul network connectivity
Example of past use cases
Smart City use-case: The Smart Tourism project connected tourist destinations across the West of England to this 5G testbed. By focussing on the intersection between infrastructure, mobile services, tourism and digital applications, the project delivered five unique use-cases showcasing Enhanced Mobile Broadband (eMBB) and Ultra-Reliable Low Latency Communication (URLLC) through innovative augmented, virtual & mixed reality applications.
Manufacturing Industry: Through the creation and operation of a Standalone 5G Core Network, the testbed was used as part of the 5G-ENCODE project to explore the use of Augmented/Virtual Reality applications in remote training of high-value manufacturing processes, and provided real-time monitoring and data storage for post-processing of the results. It also demonstrated integration of two private 5G networks delivering a service from one network to another.
Logistics: As a partner within the 5G-Logistics project, the research team created a multi-technology 5G platform, demonstrating the benefits that 5G enabled applications can bring to the logistics sector. The project team contributed their extensive knowledge and expertise in 5G network design, and Internet of Things (IoT) architectures. The Smart Internet Lab has integrated sensor networks with 5GNR and 5G core in a standalone (SA) mode to provide the solution architecture for the project's data platform.
Interested in using our Testbed?
Please contact the above for more information.
Smart Internet Lab
The Smart Internet Lab at the University of Bristol has been recognised as the top Higher Education Institution within the UK as a concentrated 5G hub of established collaborative relationships between national and international institutions, authorities and industry.
DCMS 5GUK Testbeds and Trials Programme
The Programme was set by the UK Government's Department of Digital, Culture, Media and Sport (DCMS) to encourage and fund the creation of a series of Testbeds and Trials in a range of geographic and vertical market segments and to explore the benefits and challenges of deploying 5G technologies.
The programme to date has secured £200 million funding and Phase 0 included a £16m investment in creating a cutting-edge 5G test network the '5GUK Test Networks'. This national asset was showcased globally for the first time at Mobile World Congress 2018.
Researchers at the Smart Internet Lab at the Unviersity of Bristol also demonstrated the world's first public 5G showcase. In April 2018 the Programme funded six Phase 1 projects and the University of Bristol is contributing to the 5G Smart Tourism project.